T-Mobile matches its rivals, bumps data speeds on the Series 3 Apple Watch to 4G
24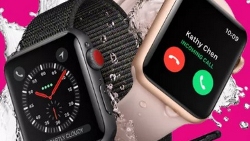 T-Mobile CEO John Legere is more attuned to his customers' wishes, hopes and desires than any other executive in the industry. So when T-Mobile subscribers complained that the Apple Watch Series 3 would be limited to data speeds of 512kbps (basically 3G), Legere looked into the matter. Today, the executive disseminated a tweet with good news for T-Mobile customers.
According to Legere, T-Mobile's new Apple Watch plan will provide 4G LTE speeds for Apple Watch users at the same $10 per month rate that it was going to charge for 3G. Pre-orders for the Apple Watch Series 3 started yesterday and the timepiece will be released next Friday, September 22nd. While an
Apple iPhone 6
or higher, running iOS 11 or higher, is needed to set up and configure the device, once that is done the Series 3 Apple Watch can make/take calls and connect to the internet without pairing with an iPhone.
We would be remiss if we didn't point out that other U.S. carriers are offering 4G speeds for the Series 3 Apple Watch, and have from the get go. T-Mobile reportedly planned on offering 512kbps data speeds by default, charging customers $20 to $25 a month if they wanted 4G speeds on their Apple smartwatch. So while we have to give kudos to Legere for listening to his customers, we have to point out that there would have been no complaints had T-Mobile originally matched the data speeds offered by its rivals for the new "stand alone" Apple Watch.

T-Mobile CEO John Legere matches his rivals by bumping the data speed on the Series 3 Apple Watch to 4G
source:
@JohnLegere
via
TheVerge