T-Mobile G-Slate shows up on YouTube with 3D camera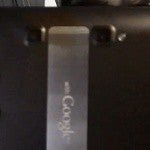 The T-Mobile G-Slate, Korean Pop stars' favorite tablet, appeared in yet another YouTube video,but this time we have a better view of the device's proportions anddual cameras on the back. Courtesy of MysteryGuitarMan, the videoshows that the 3D-capable shooters are complemented by an LED flash.The back of the device has a silver strip with Google's logo on itsback, much like the LG Optimus 2X.
The LG G-Slate appears for a couple ofseconds around the 3:40 mark. We could also spot two connectors onthe bottom part of the G-Slate, which would most probably be used fordocking the device in landscape mode. The 8.9-inch tablet willfeature the Tegra 2 dual-core processor for smootherperformance. Just how smooth? We recently got a hold of the LGOptimus 2X, the first cell phone with a Tegra 2 processor, so afterchecking out the video below, don't forget to take a look at ourOptimus 2X hands-on to see the dual-core chip in action!