T-Mobile G-Slate Review
6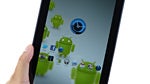 Introduction:
Striving to grow their mutual relationship with one another, there's no denying that LG is planning to bank a huge success with their line of new Android devices for T-Mobile USA – which inevitably would solidify their position with the carrier. Considering that LG's presence on T-Mobile's postpaid lineup is still relatively new, especially when it was only last summer that we saw the first set of LG phones arrive on T-Mobile's lineup, it's going to be interesting to say the least how things will develop now that Big Magenta is finally in the game with an Android 3.0 Honeycomb tablet made by LG.
Conveniently, LG manages to seduce the carrier to bring its tablet aboard, the
T-Mobile G-Slate
, thanks to its unique novel feature of being able to shoot high-definition 720p videos in 3D. Of course, it's very easy for anyone to say that this is a brash move to capitalize on the 3D hysteria sweeping the tech world, but it's nonetheless something that will keep it differentiated enough from the pack – for now. Meanwhile, it's riding onto the scene at a time when tablet competition, even within the Android camp, is beginning to become fierce as each attempt to outgun the other.
Flaunting a sticker price of $529.99 with a 2-year contract, the T-Mobile G-Slate has the slight pricing edge against its closest Android brethren in the
Motorola XOOM
, but will its novel feature of shooting 3D videos be enough to warrant even a pique interest from demanding consumers?
The package contains:
T-Mobile G-Slate
microUSB Cable
Wall Charger
microUSB to USB adapter
Product Information & Warranty Guide
Terms & Conditions
3D anaglyph style glasses
Design:
Not surprising one bit at all, there's nothing original about the G-Slate's design, but when you think about it more, it's rather hard to find much variety with the slate form factor of tablets. In reality though, it's safe to say that the G-Slate is basically a super-sized T-Mobile G2x since it incorporates most of its design attributes. However, we have to say that it's far more comfortable to hold than the Motorola XOOM primarily because of its soft touch rear panel and curved edges. Moreover, the soft touch surface does an exceptionally better job at keeping it looking clean and repelling the usual set of nasty baddies. Strangely though, the bezel outlining the 8.9" display isn't uniform around, and instead, it's moderately wider on the left and right sides – thus making it almost as wide as the Motorola XOOM. Regardless of that, its accompanying weight (21.87 oz) complements its overall solid build and exudes a premium feel in the hand.

There's no hiding the fact that the G-Slate's
8.9"
capacitive touchscreen is moderately higher quality than what's used on the Motorola XOOM, but upon turning it on for the very first time, it's instantly recognizable. Gladly accepting its
1280 x 768 resolution
, it's able to muster some crisp and sharp visuals that make it satisfyingly agreeable to read out even the most miniscule of on-screen text. Additionally, it exhibits brighter tones over the XOOM that make colors come to life and pop with luminance at almost every angle. And honestly, you won't have to worry much in attempting to use it outdoors under the eye of the sun since its high brightness output enables it to still be visible in almost any condition. To sum it up completely, the T-Mobile G-Slate's display is undoubtedly superior on so many levels.
Unlike most things, the G-Slate's
front-facing 2-megapixel
camera is tucked away in the upper left corner of the display – which works well if you happen to use it in portrait. In spite of that, it's offset from what we're familiar with and has an unusual perspective when using it in landscape.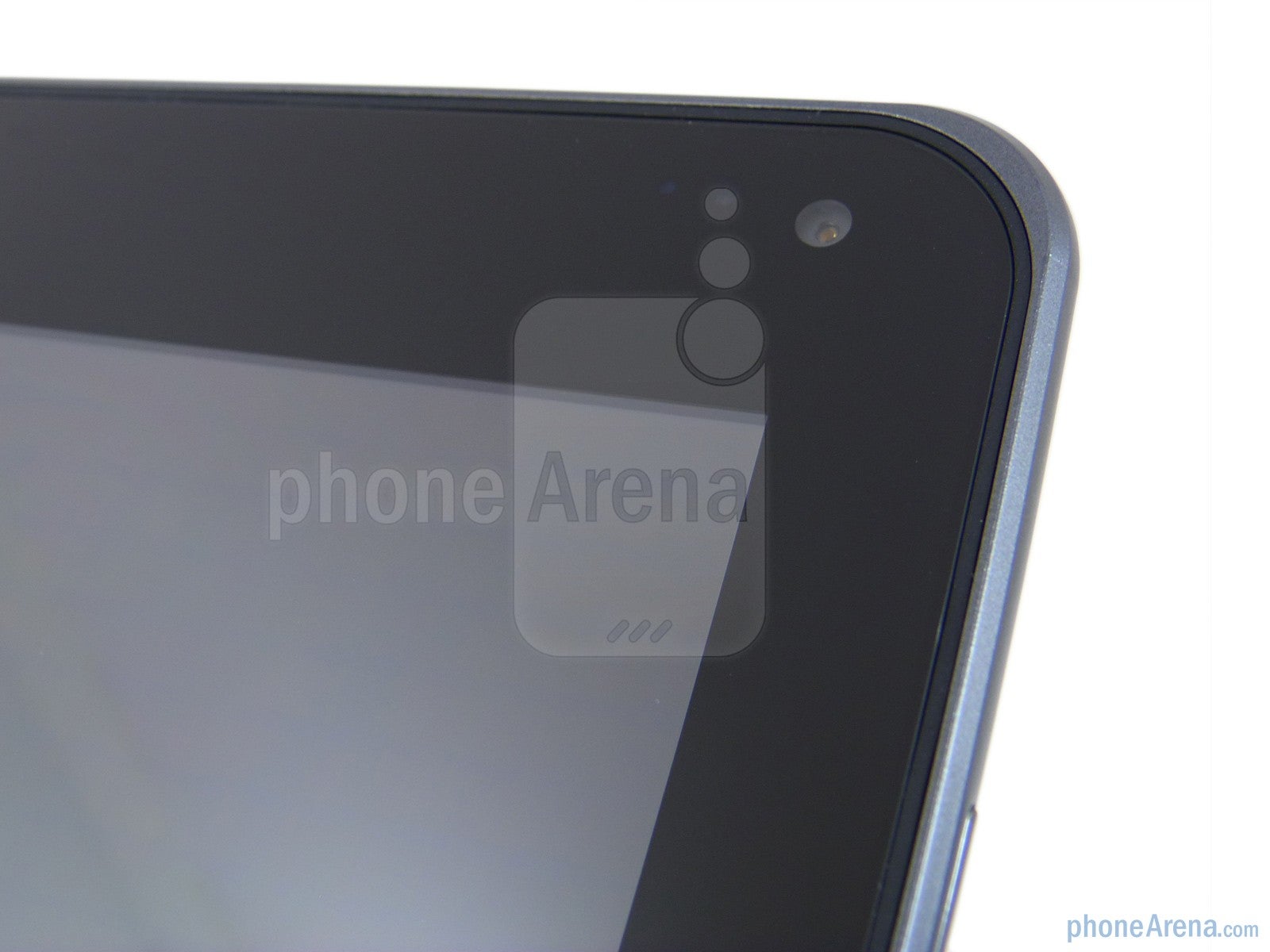 The 2MP front-facing camera of the T-Mobile G-Slate
Taking a peek at
the left edge
of the tablet, we find its proprietary charging port, 3.5mm headset jack, speaker, and dedicated power button. Now even though it's located in a convenient and accessible area, it's a little bit on the flat side, but exhibits a moderate response when pressed.
Oppositely, we locate an additional two speakers
on the right side
of the tablet that essentially offers stereo support if you hold the tablet in either orientation. Since the speakers are positioned directly on the outer edge of its bezel, there's a tendency to accidentally cover them with our palms while holding the tablet in landscape – thus reducing its output.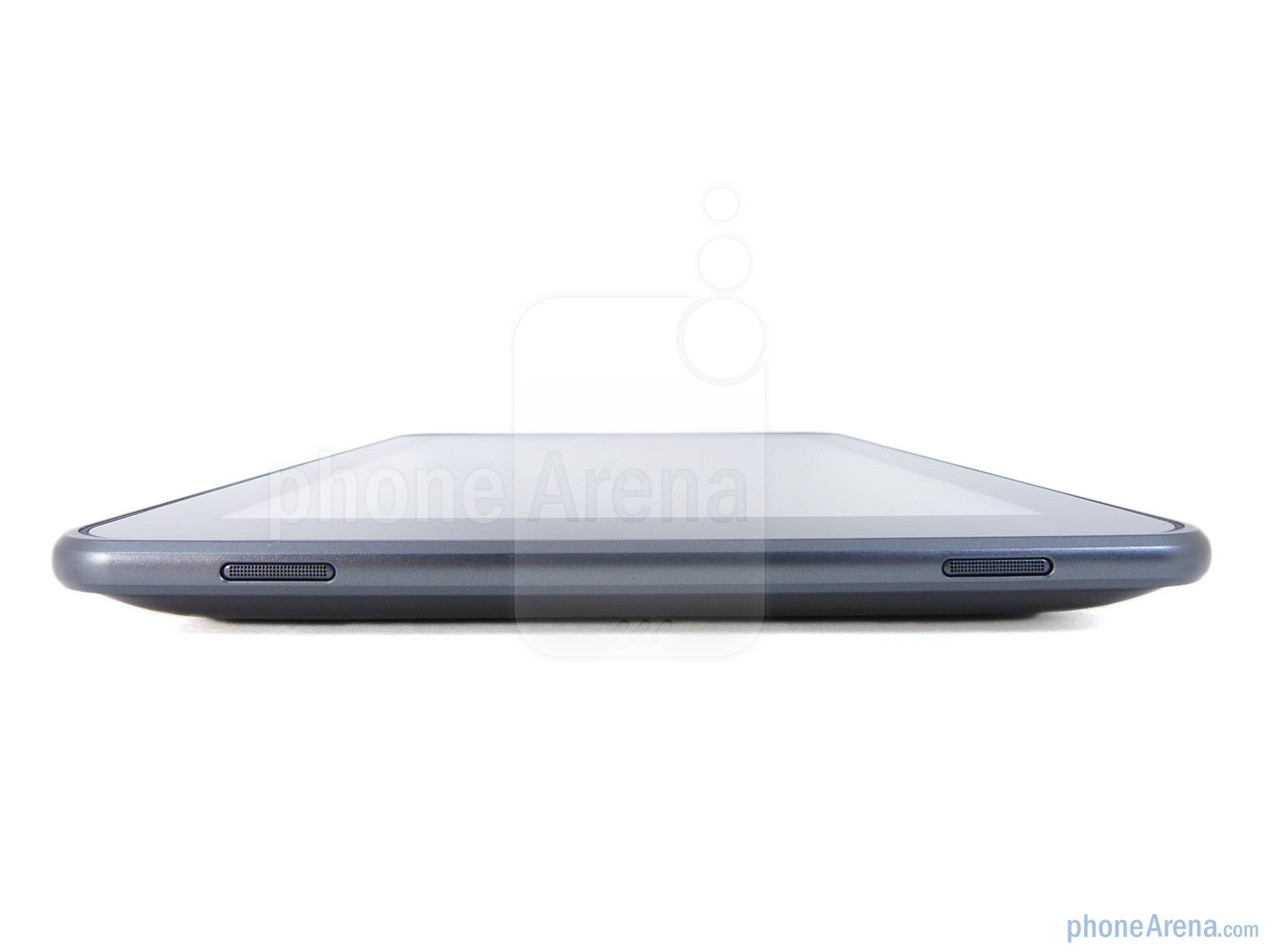 On the right side are the two additional speakers
Similar to the power button, the volume rocker is rather flat, but there's still a moderate response to it when it's pressed down all the way. In addition, the microphone is placed nearby the volume rocker
on the top edge
of the G-Slate.
Meanwhile,
the bottom edge
lays claim to a few connection ports – which include things like the HDMI-out port, pin connectors for a dock, and microUSB port. Interestingly enough, you can use the included microUSB to USB adapter to charge other devices on the go; like your smartphone.
Finally, count not one, but
two 5-megapixel
auto-focus cameras that are positioned at the same level to one another in the rear – with the LED close-by and the metallic strip separating the two. Obviously, the two cameras work in tandem to offer 3D video recording at 720p, but you can obtain 1080p for normal recording. Strangely enough, the packaging mentions that the battery is "preinstalled," which, it turns out, means you're locked out from getting to it. However, one of the sides is able to come off and provides access to its
SIM card slot
and manual reset button.