LG G-Slate shows up in Korean pop video with 3D camera apparently on-board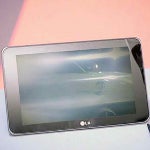 Smartrphones and tablets have started showing up in the strangest places. Take the LG G-Slate. The Korean firm's first tablet is loaded with Honeycomb, a Tegra 2 dual-core processor, and an 8.9-inch IPS WXGA touchscreen with a resolution of 1280x768. Front and rear facing cameras (1.3MP and 5MP respectively) are on board and the device is expected to run over T-Mobile's HSPA+ pipelines. The LG G-Slate has not been seen in public as much as-say-the Motorola XOOM. In fact, a video made by LG, T-Mobile and Google to introduce the tablet is basically animation. That is why it might seem a bit odd to find the device in a Korean pop video.
The LG G-Slate first appears at about the 54 second mark of the video and makes a quick reappearance later in the clip. We would like to see a lingering shot of the device, but that surely will come as we get closer to launch-a date that has not yet been announced.
As for the speculation about 3D, as we
reported
, the rear camera will apparently be able to take 3D pictures. The pictures below show where the lens might be on the back of the device
source:
AndroidGuys