Study: Some texting teens share traits with compulsive gamblers
3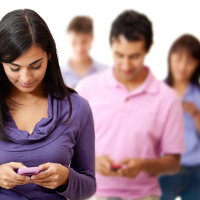 An interesting study of more than 400 teenagers in the 8th and 11th grade, found disturbing similarities between teens who are always texting, and compulsive gamblers. Many texting teens will commit the same acts that these gamblers do. Teens will lie to cover up the amount of time spent texting, a ploy used by gamblers to make it appear as though their predicament isn't so bad. Texting will force teens to lose sleep (notice how many compulsive gamblers have bags under their eyes?), and most compulsive teens just cannot stop texting. Change the verb from texting to gambling, the noun to adults, and you can easily see the similarities between the two groups.
One could make the argument that there is also a similarity between drug addiction and text addiction. Withholding both could cause withdrawals (more mental than physical for texters), and those who are addicted will read and write texts in situations where doing so endangers their lives, like while they are behind the wheel of a car. That is the perfect definition of an addict. These teens are holding on to the steering wheel with one hand, while trying to type with the other. And instead of keeping their eyes on the road, they are looking at the screen on their phone. Addiction is often defined as the act of continually doing something even if you know it will harm you.
While it might be too early to obtain enough data, what would be interesting would be to see how many of the compulsive teen texters go on to have other disorders as an adult.
source:
NYTimes
via
Engadget