Steroidal 1.4GHz version of the Samsung Galaxy S II to be launched in time for the next iPhone
29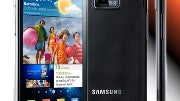 We've got another rumor now that Samsung is planning an improved version of the Samsung Galaxy S II around the time the
next iPhone launches in late August or early September
.
After Eldar Murtazin's musings that the Apple-Samsung legal kerfuffle is actually
over the next high-end phones of Samsung
, which will supposedly feature an edge-to-edge display, faster chipset and so on, we have Asian sources telling that Samsung is prepping a 1.4GHz sequel, which might not even be included in the Galaxy line, but get an altogether unique name of its own.
While this could just be a version with the NFC capabilities unleashed, and overclocked chipset, we'd rather hope it's going to be more than that, since a few MHz more alone is unlikely to sway the next iPhone buyers enough, provided that it will also sport a dual-core chipset - Apple's A5 - capable of Full HD 1080p video recording.
Still, Samsung is not new to the overclocking game, given the 1.2GHz Hummingbird in the
Infuse 4G
, or the
Samsung Galaxy S 2011 Edition
, which features a 1.4GHz Qualcomm processor. Or, alternatively, the sources might mean the Samsung Galaxy S II Mini, which is listed with 1.4GHz chipset as well, but then they say the rumored handset will be external to the Galaxy line. We'll see how this plays out, the possibility that this is something new and fresh is always exciting, but we shouldn't be raising our hopes too high until we know more.
source:
Popherald
via
GSMArena