Stephen Elop promises Nokia Windows Phones this quarter
10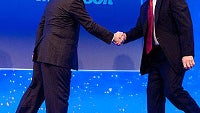 Nokia's chief executive Stephen Elop promised that Nokia will deliver its first Windows Phone handsets this quarter trying to make a dent in the iPhone/Android duopoly. The Finns were expected to lift the cover off a single Nokia phone with Mango, but it appears the company is ready with
more than one handset
.
"Our belief is that there is a clear opportunity for an alternative ecosystem,"
Elop explained his credo once again at a tech forum in the Finnish capital, Helsinki.
So far, we've heard about three handsets possibly making an appearance at
Nokia's October 26th event
, which is the most possible place for their unveiling. The first one is the pillow-shaped Nokia Sea Ray looking much like the MeeGo-running Nokia N9. The second one is the mysterious Nokia Sabre, while the third one is rumored to be a 4.3-inch phone going by the Nokia Ace moniker.
The company started an exhausting transformation from Symbian to Windows Phone as its main platform in February. If everything goes as planned, this would mean that Nokia has spent 8 months, during which its market share nosedived and user confidence in the brand went down. The Nokia Windows Phone announcement is seen as the only hope for the company, which has burnt all bridges behind it by naming its Symbian OS a
"burning platform."
Recommended Stories