Staples to launch Wi-Fi only Motorola XOOM and BlackBerry PlayBook next month
Perhaps Staples wouldn't be the first place that you would think of going to when purchasing a tablet, but according to internal documents, both the Wi-Fi only Motorola XOOM and the BlackBerry PlayBook will be offered by the office supply company. The internal document lists the date when Staples Tech Associates begin to train on the tablets using online modules. The employees will have 30 days to complete the modules, each of which will take 30 minutes to finish.
The documents show that training for the 3G-less Motorola XOOM will begin on March 23rd and for the BlackBerry PlayBook, training starts March 30th. Since 30 days is the maximum required for the Tech Associates to finish the courses, that would lead to approximate launch dates of April 22nd for the XOOM and April 29th for the PlayBook at Staples.
source:
Droid-Life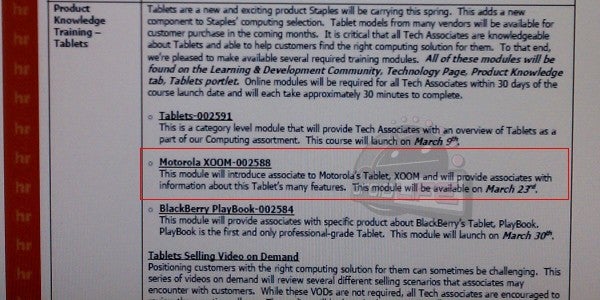 Next month, Staples will apparently launch the Wi-Fi only Motorola XOOM and the BlackBerry PlayBook