Staples puts the Samsung Stratosphere, Infuse 4G, Galaxy S 4G on sale for a penny through Black Friday
1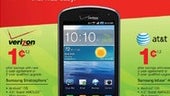 As if our list of
Black Friday deals
was not long enough,
the Samsung Stratosphere, Infuse 4G, and Galaxy S 4G will all be there for the taking at Staples priced at a penny each
. That is, of course, as long as you don't mind the carrier contract that comes along with the sweet deal, of course.
The good news was brought to us by a tipster, who also kindly attached a photo of a Staples brochure. A closer inspection of the paper shows that the deal will be available in Staples stores only, so don't go looking for it online. Besides, the offer will be valid for 2 days only – November 25 and 26, so you better not wait for the last moment to take advantage of it.
As far as the smartphones are concerned, all three of them are mid-range Android offerings with 4G connectivity on board. The
Samsung Stratosphere
for Verizon packs a 1GHz single-core processor, a slide-out QWERTY keyboard and a 4-inch Super AMOLED display, while the
Samsung Infuse 4G
for AT&T is powered by a 1.2GHz single-core chip, shines with a spacious, 4.5-inch Super AMOLED display, and stands out with a super-slim body. And the
Samsung GALAXY S 4G
for T-Mobile is but an upgraded version of the old-school GALAXY S smartphone, with the 4G radio being the major difference. In terms of hardware, it has a 1GHz single-core processor, a 4-inch Super AMOLED display and comes with a 5-megapixel camera on its back.
Is anyone thinking of grabbing any of these three handsets? Feel free to share your thoughts in the comment section below.
Thanks goes to our tipster!