Black Friday deals roundup
16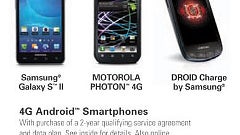 Friday, the 25th, will see one of the busiest shopping days of this year, and there are plenty of deals in mobile to choose from, too. We are listing some of the more compelling of them by carrier in case you are in the market for a new phone or tablet.
We'll try and keep this updated if new stuff comes out, or the terms of the deals change. These prices are for new two-year contracts, of course, and some of them are available right now.
Verizon
- no need for much Black Friday here. Amazon Wireless has everything for a penny right now. The flagship LTE handsets
Motorola DROID RAZR
and DROID BIONIC, plus the
HTC Rezound
fell to $0.01, the
BlackBerry Bold 9930
as well, and the
DROID 3 Global
is one cent too. Sam's Club gives a helping hand with a
$0.96 deal on the Samsung DROID CHARGE
. Verizon's deals include an HTC DROID Incredible 2 in killing
red
for free on Friday only, as well as Motorola XOOM tablet for $199.99
AT&T
- a good deal here seems to be $0.01 for the
Samsung Galaxy S II
on Amazon. The
Infuse 4G
is a cent on Amazon as well, and it is to be free at Best Buy, while the LTE darlings -
Samsung Galaxy S II Skyrocket
and
HTC Vivid 4G
- are $0.01 on Amazon in their turn.
Sprint
- the
Motorola PHOTON 4G
is $0.01 at Amazon right now. The flagship
Samsung Epic 4G Touch
is $0.01 at Amazon, much like the
HTC EVO 3D 4G
.
T-Mobile
is left out of the Amazon one cent supersale, with its high-ends there carrying the usual $199.99 price tag, but the Samsung Galaxy S 4G is one cent at Staples.
Apple
- Apple is chipping in as usual every year with a Black Friday online promo on 11/25, with iPad 2 savings running up to $40.
Microsoft
- the online store is having Windows Phones for free today, so check it out, Amazon has that nasty service cancellation fee in the first six months, after all.
Gameloft
- Today through Cyber Monday
Gameloft will be offering a game for free
each day, but you have to follow its Twitter Android account, since the deal will be active for two hours only, and you don't know when they'll post it
Tablets
-
Best Buy has a $249.99 Asus Eee Pad Transformer door buster
, and the
7" Acer Iconia Tab
will be $189.99 there, sulking the Kindle Fire.
Staples is having a sale
on the
10.1" Acer Iconia Tab
for $299.99, while the
BlackBerry PlayBook
will greet you there with the modest $199.99 price tag, like in Best Buy and Walmart. Best Buy is taking $50 off the Apple iPad 2 today online only as well, which is as good a bargain for an Apple device as you are gonna get.