Spotify updates its Android app to include "Behind the Lyrics"
2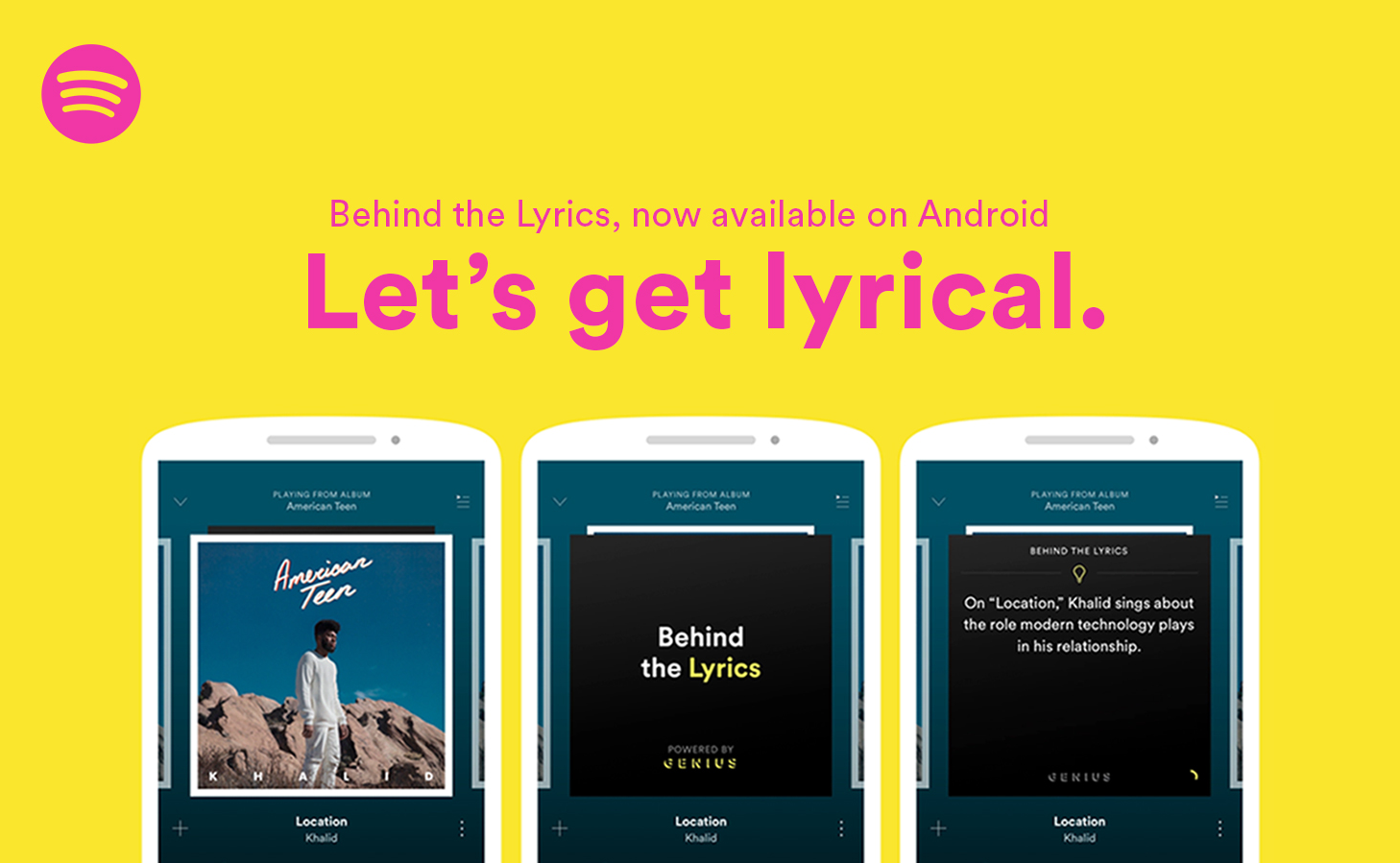 Learn all about the creation of some of your favorite songs as Behind the Lyrics is added to the Android variant of the Spotify app
So how did the Stones come up with that iconic riff for
Satisfaction
? Keith Richards heard it in a dream. How did Paul McCartney come up with the tune for
Yesterday
? It came to him in a dream. Who wrote the Monkees hit
I'm a Believer
? Neil Diamond, of course. And as far as we know, it didn't come to him in a dream. Interesting tidbits like these will now be available to Spotify subscribers using the Android variant of the music streamer's app.
"Behind the Lyrics," which launched last year on Spotify's iOS app, reveals information about the band or artist performing the tune that you're listening to. The new feature will be available to Android users starting today on a couple of Spotify's curated playlists
Behind the Lyrics: Hip Hop
and
Today's Top Hits
. According to Spotify, all songs streamed from the two playlists will include excerpts froma song's lyrics, stories from the artist about how this particular tune was created, and other "fun facts." In addition, R&B star Khalid will tell you what's "Behind the Lyrics" for every song on his
American Teen
album.
"Today Spotify and Genius are thrilled to announce that Behind the Lyrics has landed on Android. Spotify Android users everywhere can now enjoy the Behind the Lyrics treatment on our curated playlists Behind the Lyrics: Hip Hop and Today's Top Hits. Tracks on these playlists will include lyrical excerpts, fun facts, and stories straight from the artists themselves about how they created their standout songs. Simply hit 'Play' on these Genius-powered playlists to learn more about your favorite artists and songs."-Spotify
The update should start rolling out today, which means that you shouldn't expect it to hit your Android handset for a few days yet. When it does arrive, you will have the opportunity to join with your iOS totin' friends in passing back and forth interesting stories about how some of your favorite songs were written.
source:
Spotify
via
AndroidAuthority