Spotify launches top and trending podcast charts in 26 markets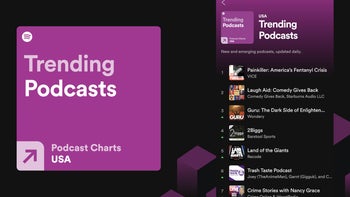 Spotify
is boosting its podcasts features with charts that let users discover trending and top podcasts easier than before. Two new features are now available for Spotify users in 26 countries: Top Podcasts and Trending Podcasts. The Top Podcasts charts will also be available by podcast category for seven markets.
To find the new feature on the Spotify app on your iPhone or Android handset, you'll have to go to Search/Browse / Podcasts / Podcast Charts. As their name suggests, Trending Podcasts include the fastest-climbing podcasts of the moment, identified using a unique algorithm blend, while Top Podcasts includes the overall most popular podcasts. The Top Podcasts is updated monthly while Trending Podcasts are updated as often as needed.
In the same piece of news,
Spotify
announced that along with the podcasts charts launch, it will update the experience in Spotify for Podcasters by adding notifications to users' dashboards to alert podcasters when they are charting. The new notifications include a card that can be shared and used as a visual across social media.
Top Podcasts and Trending Podcasts are now available in 26 markets including the United States, UK, Mexico, Brazil, Sweden, Germany, and Australia.