Spotify's new feature allows users to listen to music together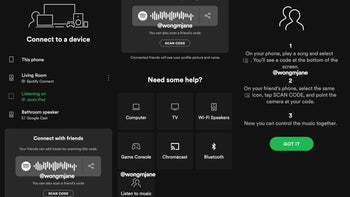 Spotify
is bringing new features to its mobile app almost on a weekly basis, although not all are important to mention. However, the upcoming improvement Spotify users are expected to get in the coming days seems quite interesting.
Jane Wong
, a technology blogger who likes to uncover unreleased features and security vulnerabilities, discovered a new feature that Spotify is currently testing internally. The new feature is meant to allow
Spotify users
to listen to music together.
According to Jane, the new feature is supposed to be called Social Listening, and in order to use it, you'll have to either scan a unique code or link to collaborate and listen to the music alongside your friends.
As soon as the Social Listening feature is enabled, you should show up on the "Already connected" list. Also, the Now Playing UI will show how many friends are listening to the music.
The new Social Listening feature only works for Spotify engineers, so don't look for it yet since it's not yet available in the stable version of the app.