South Korean prosecutors seek the arrest of Samsung's Vice Chairman
44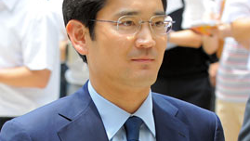 Today, the bad news for Samsung doesn't deal with a particular device like the
Samsung Galaxy Note 7
. Instead, it appears that South Korean authorities are looking to arrest Samsung Vice-Chairman Jay Y. Lee. The latter is the only son of Samsung chairman Lee Kun-hee, who has been sidelined
since suffering a heart attack in 2014
. If the arrest takes place, it could lead to some confusion at Samsung over who will be running the company. It also could force changes in Samsung's succession plans.
Jay Y. Lee allegedly had the equivalent of $36 million wired from Samsung subsidiaries to accounts belonging to the family of Choi Soon-sil, a confidante to South Korean President Park Geun-hye. Money was also said to be wired into a pair of foundations run by Ms. Choi. The payouts were supposedly made so that South Korea's president could help smooth over the father-to-son transfer of Samsung's ownership.
Special prosecutor Park Young-soo said that the money represented a bribe by Samsung, and some of the funds were embezzled by Mr. Jay. His dad, Samsung's current chairman, was convicted in 1996 of bribery; in 2009 he was convicted of tax evasion and breach of trust. Both times he was not arrested, and his convictions were erased with a presidential pardon allowing him to return to Samsung. Thus, an arrest of Mr. Jay would represent a change in what the South Korean government is willing to put up with when it comes to business as usual.
Samsung issued a statement today denying that it paid bribes or asked for special consideration from South Korea's president. The company is the largest manufacturer of smartphones in the world.
source:
NYTimes