Sony is the number two smartphone manufacturer in India by value of sales, leap frogging over Apple
68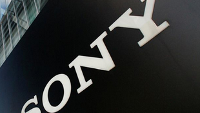 Samsung is the largest smartphone manufacturer in India. But when Sammy looks down, it no longer sees Apple chasing it. Instead, Japanese manufacturer Sony has surpassed Apple to become the second largest smartphone manufacturer in the country. Sony has been able to leap over the producer of the iPhone, by concentrating on low priced handsets in the range of 10,000 ($166 USD) Rs to 20,000 Rs. ($333 USD). A 300 Crore ($65 million) marketing campaign also helped.
According to research firm IDC, based on the value of phones sold, Sony's share of the Indian smartphone market hit 9.1% in the fourth quarter of 2013. While that was well behind Samsung's 43% slice of the Indian smartphone pie, it was 2.1 percentage points ahead of Apple's 7% share for the three months ended in December.
Looking at the actual number of phones sold in the fourth quarter, Samsung was on top with a 38% share. Micromax was next with 13%, followed by Sony and Apple. The two had volume shares of 5.5% and 2% of the Indian smartphone market, respectively.
The top phones for Sony in India during that quarter, were the Sony Xperia M Dual and the
Sony Xperia C
. For the quarter that just ended in March, analysts say that Sony was
hurt by Apple's re-release of the Apple iPhone 4
in the country, as an entry-level model priced at $375. In addition, the forked-Android powered
Nokia X
could also have been a tough challenger for Sony's entry-level Android phones in the region.
"Some of the top selling models for Sony are Xperia M Dual and Xperia C priced in this bracket, which is one of the fastest growing segments in the Indian smartphone market."
-Manasi Yadav, senior market analyst, IDC India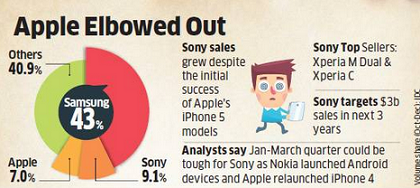 Sony tops Apple in Indian smartphone market share
Thanks for the tip, Anson!
source:
XperiaBlog
Recommended Stories