Sony halts update that replaces Siri with Google Assistant on two headsets
3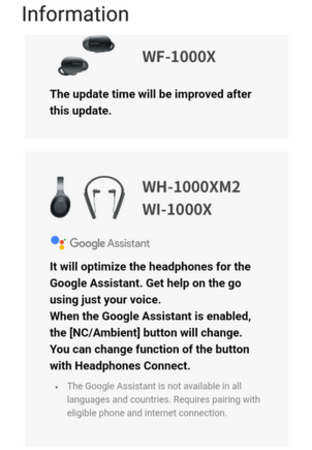 Sony has temporarily halted the update that adds Google Assistant integration to some of its headphones
Sony has temporarily stopped an update that was being sent to its WH-1000XM2 and WI-1000X headphones. The update, to version 2.0.0 of the headphones' firmware, includes support for Google Assistant and the improvement of "general performance issues." On the Sony Support website, the company wrote "We apologize for the inconvenience, but the release of this software update has been delayed. We are working on the issue and will release the update as soon as possible."
Since both headphones didn't come with Google Assistant out of the box, the pair do not feature dedicated buttons for wearers to press in order to activate the virtual assistant. Instead, once the update is disseminated, the noise cancellation button will be pressed by those wearing the headphones whenever they need to summon Google Assistant. This is faster than verbally calling for the digital helper, which is another option that users can choose. The update, once it is resumed, is scheduled to be sent out to three other Sony headphones including the WH-CH900N, WH-H900N and the WF-1000X models.
Several Sony headphones came out of the box with the ability to summon Apple's Siri assistant. That feature will be deactivated once the new update is installed with Google Assistant integration.