Sony Xperia Z5 gets imagined in conceptual renders and video
17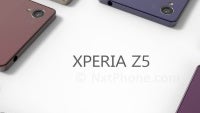 The Sony Xperia Z5 is either a pipe dream, or a very practical reality that's about to become official at this year's IFA expo in Berlin. And between the two, you'll find this colorful bunch of Xperia Z5 renders put together by none other than design enthusiast Jermaine Smit.
Rather than let his imagination go wild, Smit stuck to what Sony may eventually do and refined the Xperia Z3+/Z4's design by adding narrow bezels. He also changed the circular power button to a new, oval-shaped one. Likewise, the screen size has grown to the ubiquitous 5.5 inches by diagonal.
If Sony eventually picks up this jumbo size, it means it will be able to increase the battery capacity, and possibly fit the biggest camera sensor available - that would be between 21 and 27 megapixels for the rear camera.
Is an eventual Xperia Z5 that looks like this going to excite you, or the design you're looking at is simply too familiar? Tell us what you think in the comments. Meanwhile, feel free to pick up on the rumors surrounding the handset if you want to
get up to speed
.