Sony Xperia XZ3 or Samsung Galaxy S9+: which one would you buy?
21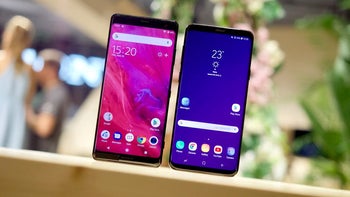 Sony's latest and greatest phone is noteworthy for a couple of reasons. For one, it's the first Sony flagship to have an AMOLED screen, instead of an LCD one. Secondly, it's curved to the sides — a feature that's rarely found on phones other than Samsung's.
So, naturally, someone might draw comparisons between the
XZ3
and
Galaxy S9+
. But, in reality, these are two very different beasts. Sammy's software is laid thick on top of Android, while Sony takes the "light reskin" approach. The S9+ has a dual camera, while the
XZ3
still passed on that feature (though, the
XZ2 Premium
that launched earlier has it).
The Xperia XZ3 launches for $900 this September. That's around the same price Samsung asked for the S9+ back in March, though, you can get it for $800-something nowadays, or less if you hit a sweet deal.
So, which one would you buy?