Sony Xperia XZ3 vs Galaxy S9 vs LG G7 ThinQ: Specs comparison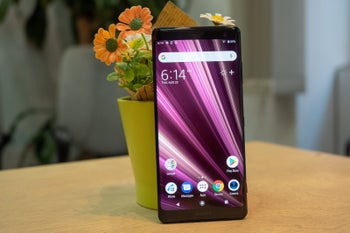 Sony just unveiled its latest flagship smartphone - the
Xperia XZ3
. You can see what our first impressions are by checking out the
hands-on
, but here we'll take a look at what the
XZ3
is going up against.
The
Xperia XZ3
comes in a segment full with tough competition, that's about to get even tougher with the release of the new iPhones. But even if we ignore them, the Android scene has more than enough premium phones you can choose from. From Samsung's
Galaxy Note 9
to the
OnePlus 6
, you have a wide choice of brands and devices that come at very different prices. Standing out from this crowd is a tall order.
The new Sony flagship receives one major upgrade, compared to the
XZ2
: the QHD+ OLED display. While this is the first Sony smartphone with an OLED display, it only helps it catch up with the rest of the top dogs in that regard.
We'll need more time with the phone, before it's clear how it fares against the competition, but for now we can at least compare the specs on paper. We chose the Samsung
Galaxy S9
and the LG
G7 ThinQ
, but you can use our phone comparison tool to put it up against any other smartphone you want:
Sony Xperia XZ3 vs _____
Display
Technology
Super AMOLED
IPS LCD
OLED
Peak brightness
1000 cd/m2 (nit)
550 cd/m2 (nit)
Features
HDR video support, Scratch-resistant glass, Ambient light sensor, Proximity sensor
HDR video support, Scratch-resistant glass, Ambient light sensor, Proximity sensor
HDR video support, Scratch-resistant glass, Ambient light sensor, Proximity sensor
Hardware
Qualcomm Snapdragon 845 SDM845
Qualcomm Snapdragon 845 SDM845
Qualcomm Snapdragon 845 SDM845
Octa-core, 2800 MHz, Kryo 385, 64-bit, 10 nm
Octa-core, 2800 MHz, Kryo 385, 64-bit, 10 nm
Octa-core, 2800 MHz, Kryo 385, 64-bit, 10 nm
Adreno 630
Adreno 630
Adreno 630
Internal storage
64GB
64GB
64GB
OS
Android (10, 9.0 Pie, 8.0 Oreo), Samsung One UI
Android (9.0 Pie, 8.0 Oreo)
Android (9.0 Pie)
Battery
Charging
Qualcomm Quick Charge 2.0, Samsung Adaptive Fast Charging
Qualcomm Quick Charge 3.0
USB Power Delivery
31.00 hours
the

average

is 17 h (1010 min)
20.00 hours
the

average

is 17 h (1010 min)
13.30 hours
the

average

is 17 h (1010 min)
3.4 days (82 hours)
the

average

is 21 days (496 h)
15.6 days (374 hours)
the

average

is 21 days (496 h)
21.7 days (520 hours)
the

average

is 21 days (496 h)
23.80 hours
the

average

is 19 h (1110 min)
22.9 days (550 hours)
the

average

is 0 days (0 h)
21.7 days (520 hours)
the

average

is 0 days (0 h)
3G: 11 hours; LTE: 12 hours; Wi-Fi: 14 hours
Camera
Rear
Single camera
Dual camera
Single camera
Main camera
16 MP (OIS, Laser and PDAF, CMOS image sensor, BSI sensor)
Specifications
Aperture size: F1.5/F2.4; Sensor size: 1/2.55"; Pixel size: 1.4 μm
Aperture size: F1.6; Focal length: 30 mm; Sensor size: 1/3.09"; Pixel size: 1 μm
Aperture size: F2.0; Focal length: 25 mm; Sensor size: 1/2.3"; Pixel size: 1.22 μm
Second camera
16 MP (Ultra-wide, PDAF, CMOS image sensor, BSI sensor)
Specifications
Aperture size: F1.9; Focal Length: 16 mm; Sensor size: 1/3.09"; Pixel size: 1 μm
Video recording
3840x2160 (4K UHD) (60 fps), 1920x1080 (Full HD) (240 fps), 1280x720 (HD) (960 fps)
3840x2160 (4K UHD) (60 fps), 1920x1080 (Full HD) (60 fps), 1280x720 (HD) (240 fps)
3840x2160 (4K UHD) (30 fps), 1920x1080 (Full HD) (960 fps), 1280x720 (HD) (960 fps)
Features
HDR, Time-lapse video, Hyperlapse, Continuous autofocus, Object tracking, Picture-taking during video recording, Video calling, Video sharing
HDR, Time-lapse video, EIS, Video calling, Video sharing
HDR, Time-lapse video, Hyperlapse, EIS, Video calling, Video sharing
Front
8 MP
8 MP
13 MP
Video capture
2560x1440 (QHD) (30 fps)
1920x1080 (Full HD) (30 fps)
1920x1080 (Full HD)
Design
Dimensions
5.81 x 2.70 x 0.33 inches (147.7 x 68.7 x 8.5 mm)
6.03 x 2.83 x 0.31 inches (153.2 x 71.9 x 7.9 mm)
6.22 x 2.87 x 0.39 inches (158 x 73 x 9.9 mm)
Weight
5.75 oz (163.0 g)
the

average

is 6.4 oz (183 g)
5.71 oz (162.0 g)
the

average

is 6.4 oz (183 g)
6.81 oz (193.0 g)
the

average

is 6.4 oz (183 g)
Materials
Back: Glass (Corning Gorilla Glass 5); Frame: Aluminum
Back: Glass (Corning Gorilla Glass 5); Frame: Aluminum
Back: Glass (Corning Gorilla Glass 5); Frame: Aluminum
Resistance
Water, Dust; IP68
Water, Dust; IP68; MIL-STD-810 certified
Water, Dust; IP68
Iris scanner, 2D Face unlock, Fingerprint (touch)
2D Face unlock, Fingerprint (touch)
Fingerprint (touch)
Features
Notification light