Sony Xperia XZ3 specs and price leak out — as expensive as we expected
5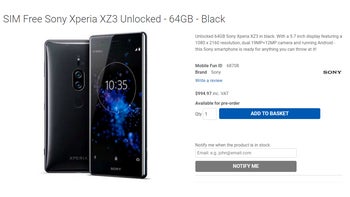 As you might know, Sony doesn't really adhere to any annual refresh cycles for its flagships. Instead, the company will often pump out two flagship phones in a year, with 6 months to spread them apart, with an even higher-class Premium device added for good measure.
So, it's no surprise that the company announced a press event for this
August the 30th
, at which it may or may not reveal its next flagship phone — the Xperia XZ3.
Now, we've been getting tidbits of information on the XZ3 — it may have dual cameras
on both its front and its back
, and it may get a bump in its RAM and battery capacity. Well, a listing for the unannounced phone has popped up on electronic store MobileFun and it seems to confirm most of our expectations.
The page lists the full specs for the supposedly upcoming phone — a Qualcomm Snapdragon 845 SoC, 6 GB of RAM, 64 GB of storage, a 5.7-inch display with a 1080 x 2160 pixel resolution, and a 3,240 mAh battery. It's worthy to note, the listing says the camera on the back will be a dual module — one 19 MP and one 12 MP camera, like on the XZ2 Premium —, but insists that the front camera will only be a single unit with a 13 MP sensor.
The price on the listing is $994.97 but do note that it says "including VAT". If we compensate for the 20% value-added tax, we get a more realistic US price of about $830.
Much like other major players in the industry, Sony has pushed the price of its flagship devices up this last year. The
Xperia XZ2
retailed for $800 unlocked, while the smaller
Xperia XZ2 Compact
took the "normal flagship" price of $650. It's no surprise that the Xperia XZ3 would be in the same ballpark. We are not sure if Sony will be able to attract customers with that kind of strategy, though.
MobileFun claims that it will be taking preorders for the phone, so it seems this page is not a placeholder or a fluke, but the real deal.