Smart Launcher Pro 2 review: clean energy
7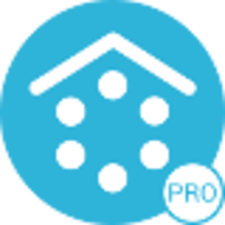 One of the most popular third-party Android interface overlays - the Smart Launcher set - recently got updated to version 2.5, and numerous extra features were introduced that warrant a brief overview. Let's dive in, and present the new Launcher Pro 2 for the uninitiated.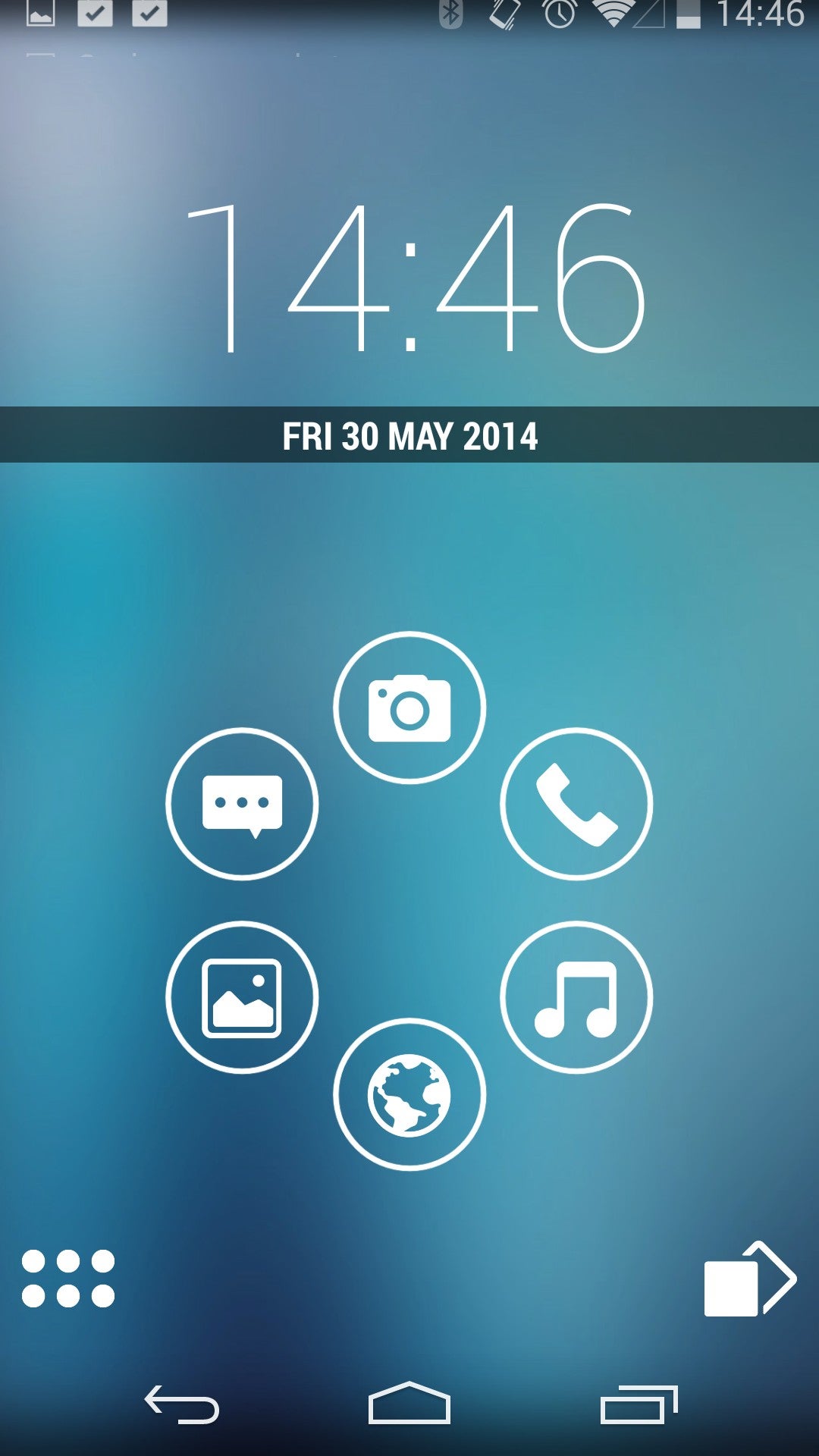 The rotary dial bubbles can be folders, shortcuts, and even pop-up widgets
Launcher Pro 2 starts you off with a brief setup process, during which you assign default apps for each of the six "bubbles" that are the trademark layout of the launcher's homescreen. Once that's done, you are presented with said bubbles arranged in the form of a rotary dial in the middle of the homescreen, which eases one-handed access to your most used apps and widgets, even on big-screen phones.
The beauty of the new Pro version is that you aren't limited to six of those bubbles, but can add more, and a variety of them, like single apps, folders, and even shortcuts or pop-up widgets. Entering the main menu reveals a neatly categorized app list, with folder icons on the left, which can be changed and rearranged, and the category's content on the right. In addition, Smart Launcher Pro 2 offers you suggestions for curated apps to be added in each category, sending you directly to the Play Store to get them, and assigning them to the respective folder automatically.
The Pro version also lets you set widget screens, unlike the free one, and you can up to no less than nine of those, decking each out with different grid layouts, and a wallpaper of choice. What we would like to see added in the next versions, however, is the ability to go back from the widget screens to the homescreen by swiping left or right, instead of only being able to go the other way around.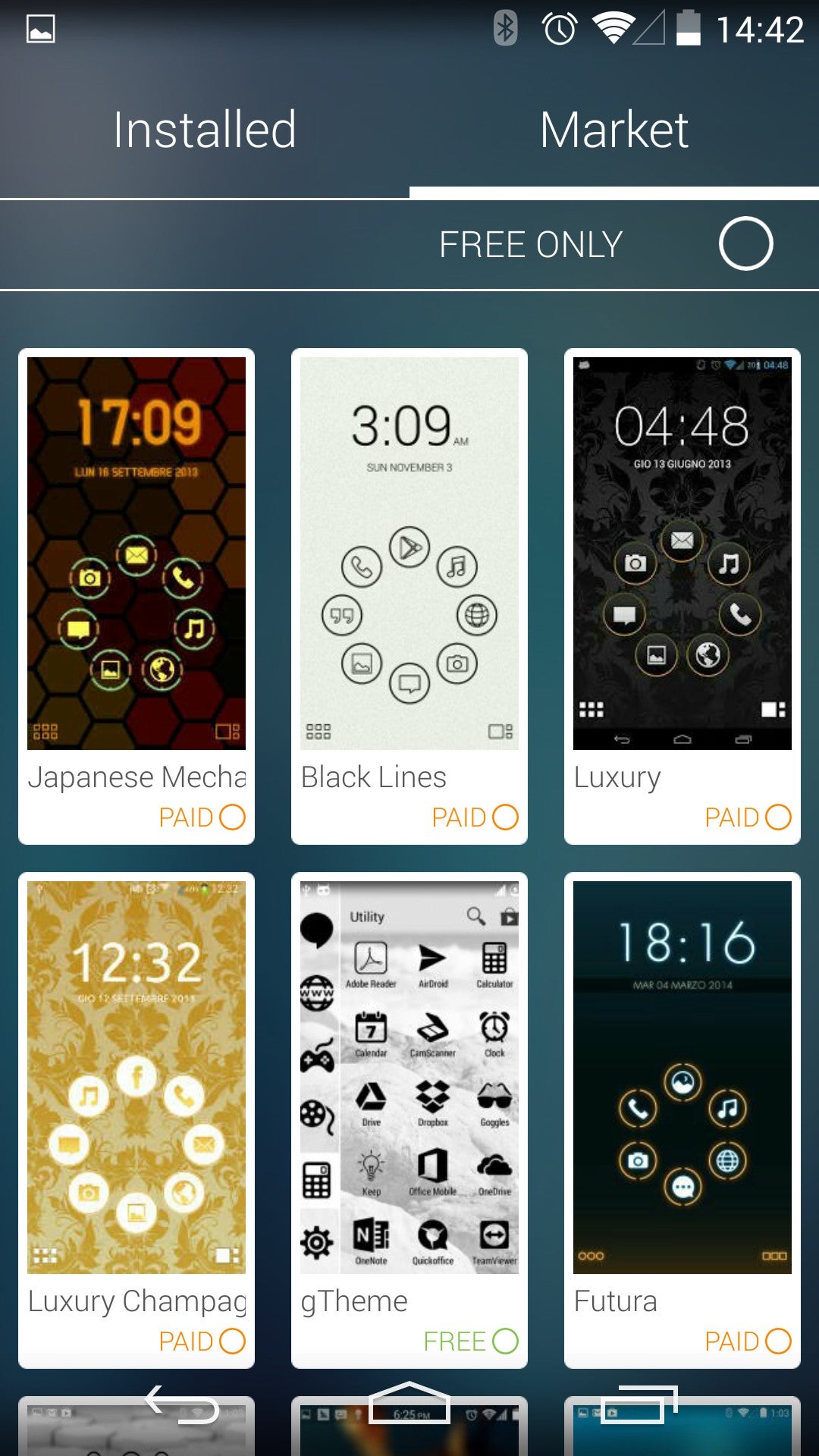 A smorgasbord of themes and icon packs
In addition, you have a default date/time and calendar widgets placed directly on the homescreen, which can be assigned to apps different from the stock ones. Their fonts, animation and layout can also be customized freely, so you'll rarely be bored by how the homescreen looks like. Speaking of boredom, that's one thing you are unlikely to experience with Smart Launcher Pro 2. Apart from a smorgasbord of different wallpapers, fonts and transitional animations, you can choose amongst a great variety of free and paid themes, icon packs, and lock screen replacements, too.
The rotary dial is undoubtedly more conducive to one-handed operation of your phone than the typical launcher layouts, which helps tremendously if you are having a big-screen handset, but that's not the only helpful feature in Smart Launcher Pro 2. It also includes two-finger gestures for devising additional ways to start apps, lets you assign different actions for a single or a double tap on a bubble, and sports numerous tiny helpers, like letting you double-tap to turn the screen off.
Last, but not least, a pop-up widget can be assigned to a single or a double tap of a bubble on the homescreen, so you can have an even faster and more direct access to the renowned flexibility of Android, brought along by its widget system.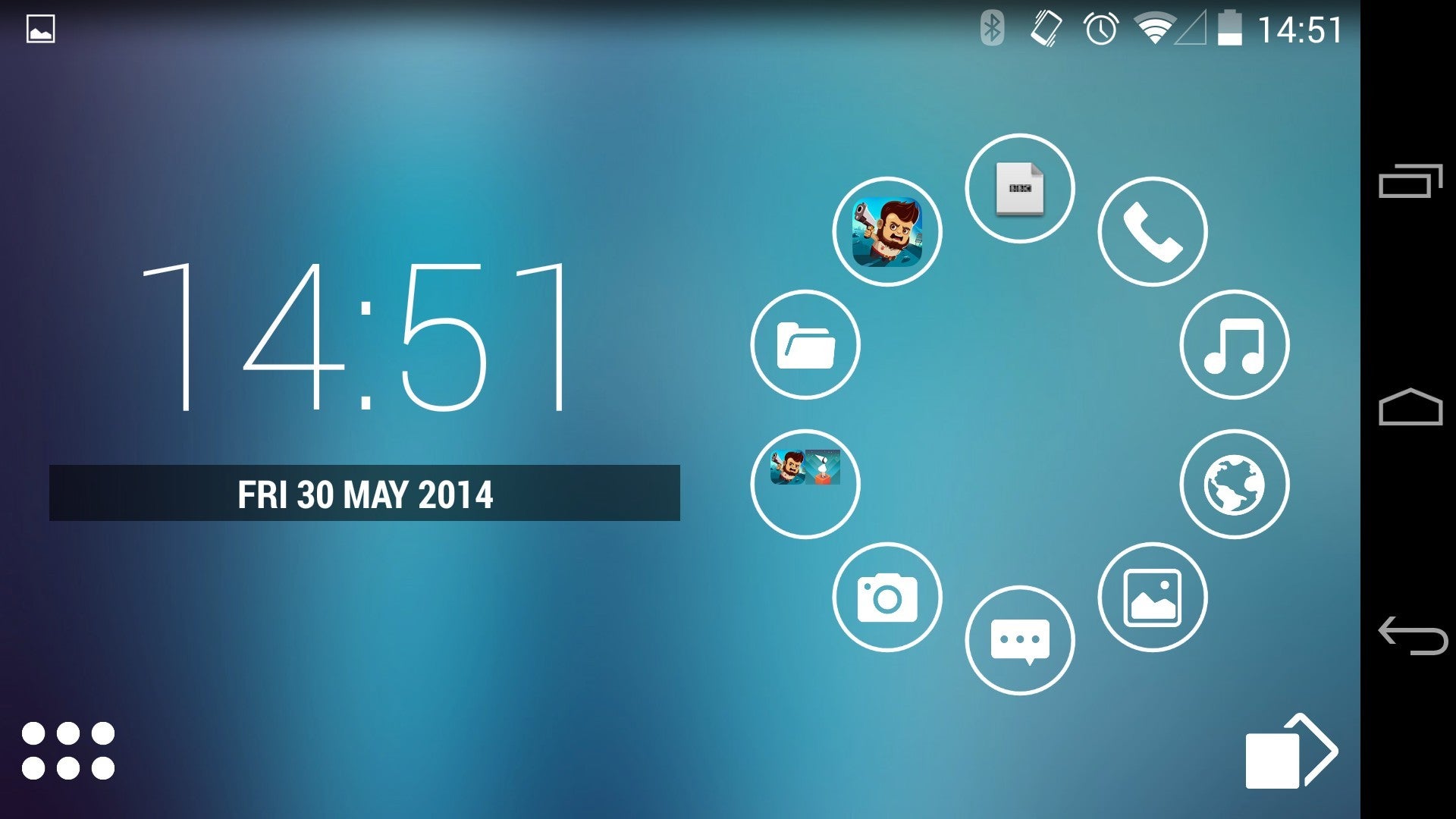 Smart Launcher Pro 2 sports an automatic landscape mode, too
Long story short, Smart Launcher Pro 2 is shaping up to be one of the fastest, cleanest and most versatile Android launchers. It eases one-handed operation, which is desperately needed with those big-screen phones of late, and provides quick access to the most used apps and functions on your handset, without cluttering the scene. Add to these the gesture support, landscape mode, a careful selection of visual customizations, as well as the ability to add features via Play Store plugins, and we have to say that the latest update of Smart Launcher Pro 2 is a winner, merging a simple interface with a rich set of functionality.
If any of the above-mentioned niceties has piqued your interest, you can give Smart Launcher Pro 2 a shot, and tell us what you think about the latest options it brings to the table.
Pros
Light, clean and minimalistic launcher
Simplicity in one-handed and gesture navigation
An abundance of theming and customization options
Automatic portrait/landscape mode
Extra plugins in the Play Store
Cons
A paid Pro version required for widget screens and other must-have features to appear
Swiping only gets you from the homescreen to the widget screens, but not the other way around