Skyfire 3.0 adds Facebook social features to web browsing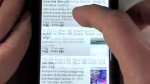 Sure, having Adobe Flash Player on your Android handset means that the novelty of watching Flash videos using the Skyfire browser has disippated. And while not every Android handset supports Adobe's software, the development team at Skyfire still felt it necessary to add more features to the browser which is why version 3.0 includes Facebook Connect.
While browsing the web using Skyfire 3.0, you can use Facebook Connect to share stories, pictures and videos with your family and friends. Additionally, a service called "One Touch Search" lets you search for anything using Google, Twitter, VideoSurf, Amazon and Digg. You can also tap the entire Flashbook community to see what content they are viewing on your favorite sites.
So if being able to watch Flash video on your browser doesn't do it for you anymore, there are still other reasons to install the new Skyfire browser on your Android phone. Check out the video below to see how an everyday user might find the app useful. Skyfire 3.0 is now available for free from the Android Market.
source:
Skyfire
Recommended Stories