See how the new 5.1" panel of the Galaxy S5 differs from the screens of the Note 3 and S4
63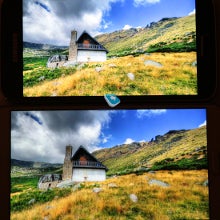 When it introduced the
Galaxy S5
, Samsung arguably unveiled its best Super AMOLED display to date, too. It is able to produce up to 500 nits of brightness - something only
Nokia has managed to do so far with its OLED screen panels
. This peak brightness level places it on equal footing with some of the best LCD displays out there, which are also in the 500+ nits club.
In terms of color representation, the Adapt Display automatic mode on the S5 seems to produce more toned-down hues, compared to the oversaturated colors that the Super AMOLEDs on the
Note 3
, and
Galaxy S4
, manage to produce, as you can see in the comparison pics below. In fact, the display test graphics at the end of the slideshow demonstrate that the Movie Mode of the display brings it pretty close to the standard RGB color gamut, with oversaturation in the greens only.