Sceptre releases $299 sound bar that runs Android
2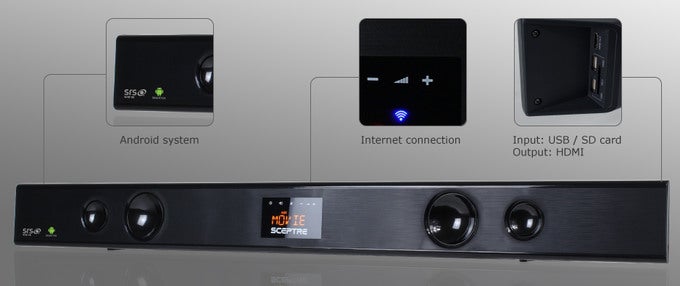 You've probably seen and heard a sound bar before. Without occupying too much space, they add that extra oomph a TV's speakers just can't produce. Those
Android-powered sticks that you plug into a TV's HDMI port
are also among the gadgets we've talked about. Now, have you ever wondered what would happen if these two are fused together? Well, that's just what the guys at Sceptre have managed to do.
Meet the Sceptre SB301524W – a sound bar that brings the power of Android 4.0 straight to your TV screen. It comes with built-in Wi-Fi connectivity so you can access the web and download apps onto the device's 4GB of internal storage. If that's not enough, there's an SD card slot present and a USB port for hooking up external hard drives of up to 2TB. A modest, single-core processor clocked at 1GHz runs the show, so performance might be an issue at times, but the makers of the gadget claim that it should be capable of playing 1080p video.
As for its audio features, the Sceptre Android-powered sound bar packs two 18-watt, 2-inch full-range speakers, along with a 35-watt, 3-inch subwoofer. In case you're interested in owning one of these, $299 is the amount of cash you'll have to set aside.
Recommended Stories