Samsung's rumored 11.6 inch tablet might have been snapped, crackled and popped
35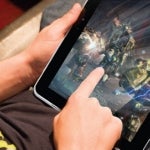 Samsung was working on a tablet with an 11.6 inch screen
. The
Samsung GALAXY Tab 11.6
was supposed to launch last month, according to the story, and would be Sammy's first model to be shipped with Android 4.0 already installed. Now here is where things get interesting. On Samsung's web site is an advertisement for the Samsung Exynos 5 processor and it shows someone using an unnamed Samsung tablet. Could this be the Samsung GALAXY Tab 11.6?
On first inspection, it looks like the Samsung GALAXY Tab 2 10.1, except for the speaker grill and the coloring which are both different than what appears on a rendering of the sequel to the Korean manufacturer's 10.1 inch model. And the biggest clue of all is that the ad is for the very same 2GHz Samsung Exynos 5250 that is supposed to
be under the hood of the GALAXY Tab 11.6
.
Other specs include the 11.6 inch display (natch) with a resolution of 2560 x 1600. The
Pixel
density of 260ppi would come close to the new Apple iPad's 264ppi and
would be a Retina display
. Remember, while the iPad's pixel density falls under the 300ppi benchmark once touted by Steve Jobs as being the dividing line for determining a Retina display, the fact that tablets are not held up to your face like a smartphone allows tablets to have a bit of a leeway. The screen would have a 16:10 aspect ratio.
So is this the long awaited Samsung GALAXY Tab 11.6 or is the Korean based manufacturer just playing with our minds?
source:
Samsung
via
AndroidandMe