Samsung tablet with 11.6" screen coming in February
36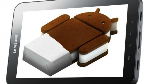 Details have leaked about what will likely be the first tablet from Samsung to ship running Android 4.0, but the OS version news has been overshadowed by the reported specs on the screen of the new device. BGR first reported the leaked info, and claims that the tablet will have a "retina display", but that's not quite true.
The reported tablet will have an 11.6" screen running at a huge 2560x1600 resolution. Although, that adds up to 260 pixels per inch, which is very good, but not quite up to the definition of a "retina display". Still, it sounds pretty amazing. The tablet will have a 16:10 aspect ratio, and reportedly will not be just "barely larger" than the Samsung Galaxy Tab 10.1, because Samsung is using a smaller bezel for this tablet.
The tablet is also said to be packing the new Samsung Exynos 5250 CPU, which is dual-core and clocked to 2 GHz. And, surprisingly the tablet may also feature an NFC chip to take advantage of the new Android Beam feature of Ice Cream Sandwich (which puts this tablet on the top of the list for any potential Galaxy Nexus users.) Lastly, the tab is said to have a wireless docking feature for gaming or running media through an HDTV.
source:
BGR