Samsung's metallic Galaxy A5 may cost around $400, other details about the A3 and A7 leaked
34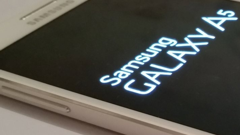 Earlier this month, the Samsung SM-A500 (expected to be called
Galaxy A5
) appeared in two series of photos, both seemingly confirming that the handset has a metal frame around its edges - just like the
Galaxy Alpha
and
Galaxy Note 4
. While Samsung has yet to officially announce the smartphone, we now have details on how much it's going to cost.
According to SamMobile, the Galaxy A5 should be sold for prices between $400 and $450 - thus being more affordable than handsets like the Galaxy S5 or Galaxy Alpha. Sure enough, we weren't expecting to see a high price anyway, since the A5 is a mid-range device. Its features include a 5-inch 720p AMOLED display, LTE connectivity, 5MP front-facing camera, 13 MP rear camera, quad-core Snapdragon 400 processor, 2 GB of RAM, and 16 GB of expandable internal memory - all
in a 6.7mm-thin body
.
SamMobile also has details about other two unannounced Samsung smartphones: the Galaxy A3, and Galaxy A7 (which are expected to be part of the same
A series
of devices that includes the Galaxy A5). The A3 should cost between $350 and $400, while the A7 could be sold for $450 - $500. Like the A5, both the A3 and A7 will have LTE connectivity, and - supposedly - bodies that are partially made out of metal. While the Galaxy A3 and Galaxy A5 should be widely available around the world, it's said that the A7 will be released only in "select countries." Well, we're now waiting for Samsung to confirm all this.