More Samsung Galaxy A5 details surface, dual SIM model expected
13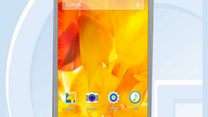 Just moments ago, we came across an extensive leak showing the yet-unannounced Samsung Galaxy A5. Now, we have even more details about this not-so-mysterious smartphone thanks to the fact that it just popped up at the FCC under the model names SM-A5000 and SM-A5009.
From the looks of it, the Samsung Galaxy A5 will have a non-removable back cover, which is an uncommon trait for the company's phones. Even the slim and stylish Galaxy Alpha has a removable back cover and a user-accessible battery. The FCC papers also reveal that the phone is 5.47 inches (139 mm) tall and 2.76 (70 mm) wide. But most importantly, the handset is labeled as a Dual SIM device, although we suppose that's valid only for the SM-A5009 model. In terms of connectivity, we see support for only one LTE band, 41. This is used by China Mobile, so this particular version of the phone is likely destined to the carrier's network. Last but not least, the screen of the phone has a diagonal size of 5 inches, as previous leaks have already confirmed.
Thanks to previously leaked information, we also know what to expect from the Galaxy A5 in terms of hardware. A Qualcomm Snapdragon 400 SoC is powering the handset, which puts it into the ever-expanding mid-range category. On its back resides a 13MP camera, while the 5MP front-facing one should allow for great selfies. Storage capacity is quoted as 16GB, but a microSD card slot is present, thankfully. The 2300 mAh battery seems generous for a phone that's predicted to be exceptionally slim.
That's all we know about the Samsung Galaxy A5 so far. If we come across more details about it, we'll let you know.