Samsung Galaxy A5 (2017) Review
32

Introduction
These days, Samsung has simplified its previously huge lineup of phones: we now have the Galaxy S and Note series representing the best of Samsung, the Galaxy J series as the most affordable options, and then, there is the Galaxy A series standing right in the middle.
The history of the Galaxy A series starts in the beginning of 2015, when Samsung launched this new lineup with three phones in it: the original A3, A5 and A7, differing by features, but most importantly by screen size. An update to the A series in 2016 brought trendy new glass designs, but we had complaints about the performance.
This year, Samsung has just launched the brand new Galaxy A (2017): the
A3 (2017)
and A5 (2017) are already out there, while the
A7 (2017)
is coming up soon.
Of all these phones, the Samsung Galaxy A5 (2017) is the phone that will be the right fit for most people: it is not too cheap, nor too expensive; its 5.2-inch screen is neither too big, nor too small; it's the golden mean.
The A5 (2017) also has a few tricks up its sleeve: it comes with a new-generation, more power-efficient processor, an improved camera, it sports the reversible USB-C port for charging and it even has water resistance. Add to that a premium grade glass and metal design, and you start to wonder: with all those features, isn't this phone just as good as the Galaxy S7? We take a deeper look to find out.
In the box:


Samsung Galaxy A5 (2017) model SM-A520F
User Manual
Sim ejector tool
USB-A to USB-C cable
White Samsung earbuds with replaceable rubber tips
Adaptive Fast Charging wall charger (15 watts peak, 9V and 1.67V, or 5V and 2A)
Design
Designed to near perfection, with a curved glass back, metal frame and full-on water-protection.
The Galaxy A5 (2017) is a real looker. In fact, its glass-and-metal construction feels so seamlessly well put together, we'd forgive you if you mistake it for the flagship Galaxy S7 model. The similarity is certainly there. In the hand, the phone feels well balanced, with a nice heft to it: it's thin, but not too airy, with just enough weight to feel comfortable. The only design quirk that I personally don't like is the disproportionately small camera on the back. This is the one element that is different than on the S7, but you do get used to it with time.
The new A5 features a scratch-resistant glass on the back and comes in a selection of four distinct colors with catchy names: Black Sky, Gold Sand, Blue Mist, and Peach Cloud (we have the Blue Mist up for review).
With a 5.2-inch display and tiny bezel on the side, the A5 is certainly compact. In fact, it is almost the same size as the Galaxy S7. And if you want a better idea of its physical size, feel free to check out our neat size comparison tool below.
We're glad to see the reversible USB-C port rather than the old and quickly disappearing microUSB for charging here, and the handset also has a good ol' 3.5mm headphone jack for your headphones, speakers and AUX cables.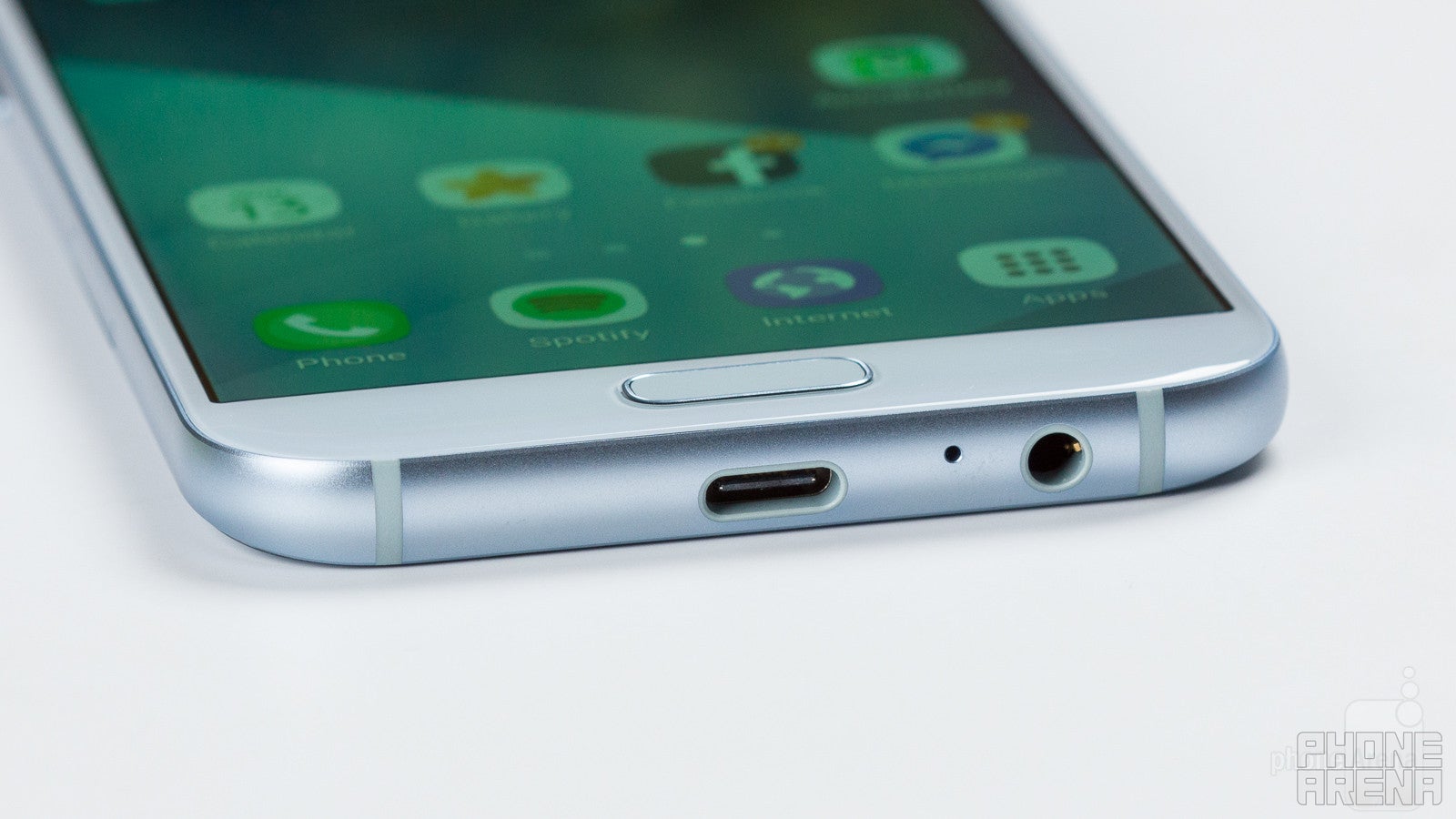 The really cool thing about the new A5, however, is that the phone is water-proof. It is officially IP68 certified, which means the phone is protected from water damage when submerged as deep as 5 feet (1.5 meters) for up to 30 minutes. Water resistance is a premium feature usually found in the most expensive phones out there, and it's definitely a rarity seeing it on a more affordable phone like this new A5. With a water-proof phone, you don't need to worry about using your phone when it rains, that occasional drop in water, or taking a few pictures near water or even an underwater video in the swimming pool (just don't use it near salty sea / ocean water, as the phone is only protected against fresh water damage).
Display
A 5.2" Super AMOLED screen with good looking color and plenty of color customization options.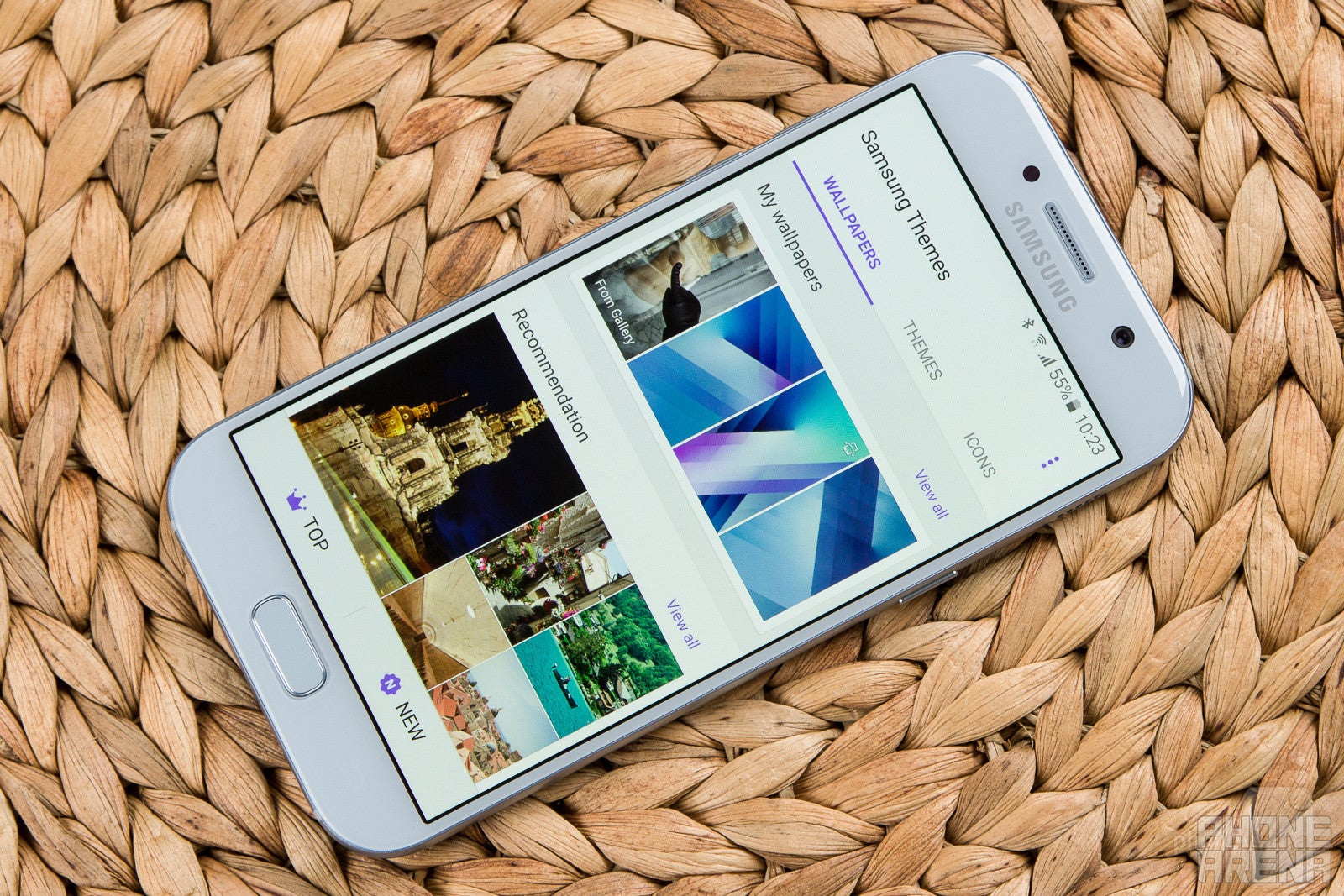 The Galaxy A5 (2017) sports a 5.2-inch Super AMOLED display with a resolution of 1080 x 1920 pixels.
AMOLED screens come with the advantage that you can control each pixel, which his means that you can shut down individual pixels and achieve perfectly deep blacks and excellent contrast, something not possible to the same extent on LCD screens. On the downside, it's a PenTile display, which - for the unenlightened in display tech talk - means that it has less sub-pixels, and is not quite as sharp as an RGB (most LCDs) display of the same resolution.
Enough with the complicated terms, though: in reality, the screen looks very nice. It's definitely sharp enough, so much so that at a regular viewing distance, you cannot see any jagged edges to icons or images. It also looks very good in terms of color reproduction.
Samsung allows customers to fine-tune the color reproduction of the screen: go into Settings > Display > Screen Mode, and you get to choose from four different modes. The first one is the Basic mode, which we recommend as it has the best-balanced colors that are close to the sRGB color standard, accepted and used across the world. You also have the Adaptive display option that features oversaturated, punchy and impressive (but not 'accurate' to any particular standard) colors. There are also the Photo and Cinema modes, there with the aim to improve the look for your still and motion pictures, but we would recommend the standard Basic mode over any of these. Samsung also allows you to tweak the red, green and blue colors individually to your liking, if you are into custom colors.
This is also one of the brightest AMOLED screens out there. That's great for outdoor use, as the boosted brightness makes it easier to read what's on the screen even on a bright, sunny day. The minimum screen brightness can drop down to 1.8 nits. The lower this value, the more comfortable is to look at the screen in bed with the lights off without the display burning your eyes. The A5 is one of the better phones in this aspect. There is now a Blue light filter on the new A5: what it does is filter out the blue light from a screen. This is important because blue light is a trigger for the brain hormone melatonin: when you see blue light, your brain makes it more difficult for your body to fall asleep, hence, using your phone without a blue light filter before bed could ruin your sleep. We're glad to have this new Blue light filter on the A5 (2017) and you can customize it to best suite your sleep times and habits.
Another one of the cool new features that has trickled down to the A5 from Samsung's flagship phones is the 'Always-on Display' mode that shows you the time, date and the type of missed notifications even when your screen is locked (but not the actual notifications). The letters are contrasting and easy to see, but be warned - this drains battery like crazy, at a rate of around 1% each hour.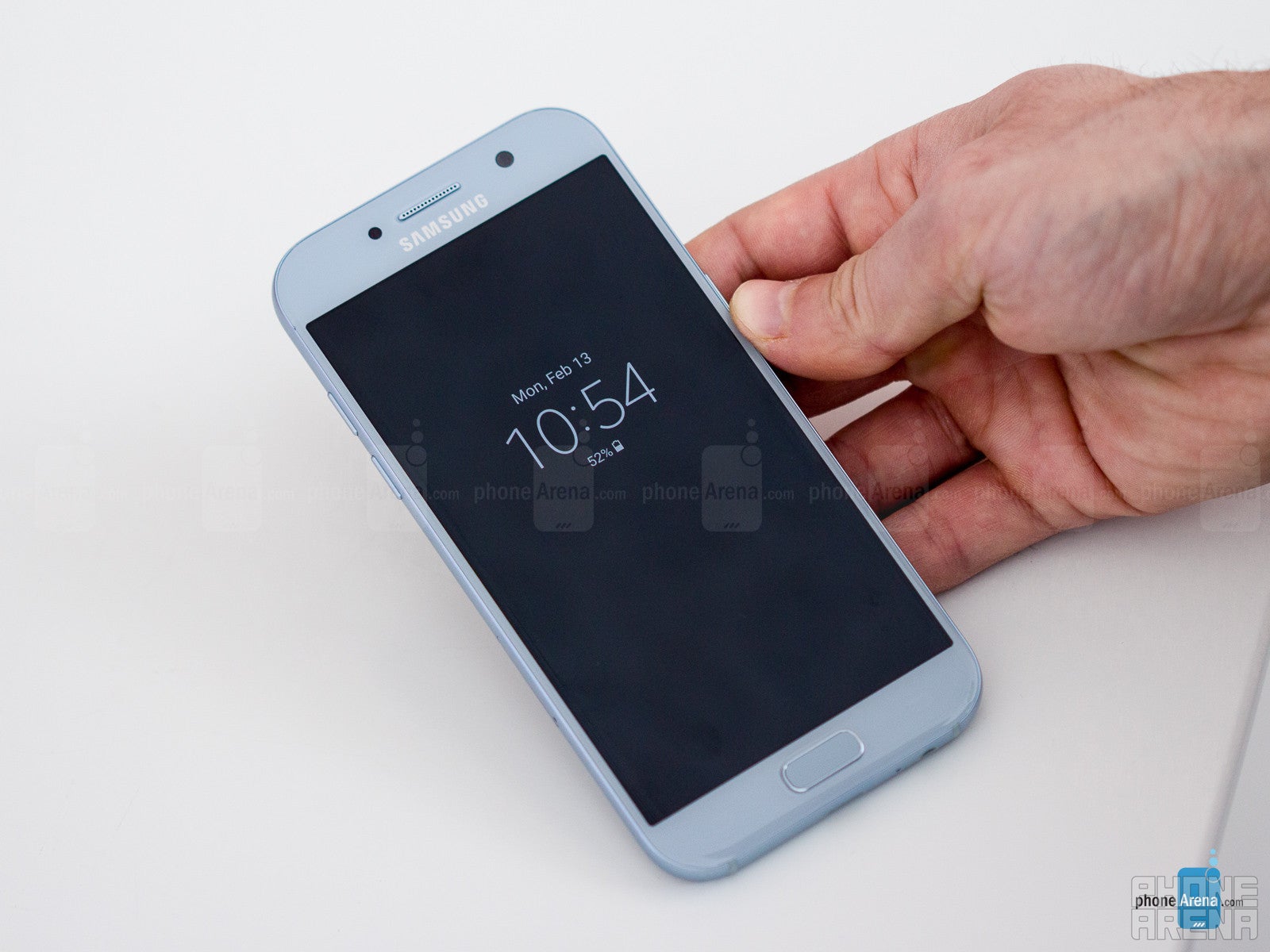 The 'Always-on Display'
Display measurements and quality
Recommended Stories