Samsung will soon launch Iron Man versions of the Samsung Galaxy S6 and S6 edge
82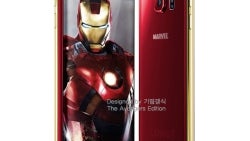 Lee Young-hee, the head of marketing for Samsung's mobile division, recently announced that Samsung is about to release Iron Man versions of the
Galaxy S6
and
S6 edge
smartphones. The announcement was made today by Lee Young-hee after watching the recent Avengers: Age of Ultron movie at a special event in Seoul. The Samsung executive mentioned that the color of the smartphones will be red, and that the Iron Man versions of the S6 and S6 edge will be launched either in late May or early June.
Back in March, rumors claimed that Samsung is considering the launch of multiple
Avengers versions of the Galaxy S6 smartphone series
, but that the manufacturer has yet to make a final decision on that matter. At the moment, there is no information regarding other Avengers getting their own versions of the Galaxy S6 and Galaxy S6 edge.
Back in June 2014, Samsung and Marvel announced a strategic global partnership, with the first fruit of this partnership materializing in the form of a free three-month subscription for Marvel Unlimited being bundled with the
Samsung Galaxy Tab S
series. More recently, the Galaxy Tab S and the Samsung Galaxy S6 edge have both scored appearances in the latest Avengers: Age of Ultron movie, and the manufacturer also launched
a couple
of
Avengers-themed promos
for the Galaxy S6 series.
Until Samsung actually unveils the Iron Man versions of the Galaxy S6 and Galaxy S6 edge smartphones, we invite you to take a look at these fan-made renders which envision several Avengers getting limited-edition versions of the S6 edge: