Part two of Samsung Galaxy S6 Avengers promo shows our heroes in action
24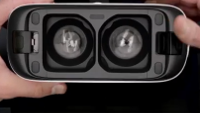 A couple of days ago, we showed you part one of a promo for the
Samsung Galaxy S6
that
also promoted the new Avengers movie
Age of Ultron.
The new promo (and last of the quick two-part series) picks up where the first one ended. This time, our heroes are treated to a free Samsung Gear VR which allows them to actually see themselves as superheroes.
The team starts their virtual training when they are interrupted by a group of robots with a mission to destroy the Avengers. It appears that Packers' running back Eddie Lacy has the most fun as the Hulk, crushing one of the robots and turning it into a tin football. It turns out that the battle is all part of the training after all, and at the end of the day the six understand what it is like to become a team.
It looks like other mortals will also get the opportunity to become Avengers by downloading the Avengers Experience game coming soon from the Oculus Store. The game will be available for those with the Samsung Galaxy S6 using Gear VR.
source:
Samsung