Samsung reports a 30% drop in Q1 profits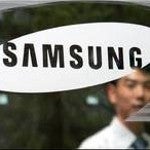 This is a very
important time
for Korean manufacturer Samsung. The company has just launched in Korea one of the
best performing
smartphones in the Samsung Galaxy S II. This comes just as Samsung reports a 14% year-over-year drop in handset shipments for this past first quarter. Despite the drop in shipments, 18% of the 70 million units shipped were smartphones, up from just 4% the prior year. Because smartphones provide
higher margins
to the manufacturer, Samsung was able to
squeeze
$1.34 billion in operating profits out of this segment.
As we
reported
, the Korean based manufacturer has just launched the Samsung Galaxy S II in Korea and plans on a
May 3rd
launch in the U.K. with about
120 countries
to receive the device after that. The model has already received
thumbs up from the FCC wearing AT&T's frequencies
although a
U.S. variant
of the model has yet to be introduced
officially
. The phone has really captured a
buzz
among cellphone fanatics thanks to the alleged score of
3,053
received on the Quadrant benchmark test. For the summer months, Samsung expects the Galaxy S II and its Galaxy Tab 10.1 tablet to both outperform the single-digit growth readings that the manufacturer forecasts for the market over the next few months.
Samsung's first quarter profits for the whole company were down
30% to $2.6 billion
. RAM sales were impacted by slowing PC sales but were offset a bit by higher RAM sales for smartphones and tablets. While Samsung
produces RAM
and other components for its own mobile products, Apple remains its largest customer and the Cupertino based form uses flash memory chips across practically its entire line-up.
Samsung had problems in its display business which lost $214.85 million. The
red ink
in this area would have been greater if not for sales to tablet makers, including Apple. The latter firm
outsourced
much of its iPad display production to Samsung.
source:
electronista