Samsung Galaxy S II launched in Korea, 120 countries to follow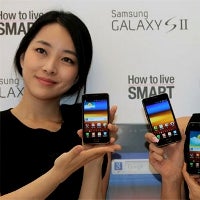 One of the most anticipated Android phones for this year, the
Samsung Galaxy S II
, is hitting all major South Korean carriers as we speak. Samsung says the worldwide rollout will blanket 120 countries, similar to what the company did with the Samsung Galaxy S last year.
Sammy is also backing the handset up with a major marketing push, including taking our own poor editor Basil Kronfli for
extreme unboxing
to the misty highlands of North Wales's Snowdonia mountains. Also, a
few creative commercials
are already warming up the crowds for the amazing possibilities of the handset, which you can see demoed in our preview of the
Samsung Galaxy S II
.
The burning question is, of course, when will the Samsung Galaxy S II trickle down to the US? UK retailers are listing the first batches to arrive on Monday, with
May 3rd the first dispatch date
, so if you are dying to have it, nothing stops you to pay $700 retail plus shipping to the US.
The Samsung Galaxy S II, however, already
cleared the FCC with AT&T frequencies
more than a month ago, so we should expect to see it on US soil very soon. Mum's the word about Verizon or the other carriers, but considering the
simultaneous launch event on all four carriers
for the first edition last year, Sammy could very well pull off the same stunt.
Given what we wrote yesterday about an upgrade, dubbed
Samsung Galaxy S3
, which could be coming in late fall, we'd wager to say that Sammy will want to give the Galaxy S II a chance for at least 6-7 months of sales, before it introduces the next version, so the sooner it lets the dog out in America, the better.
source:
SamsungHub