Samsung pushes Galaxy Note 7 update with new Always-On display feature
51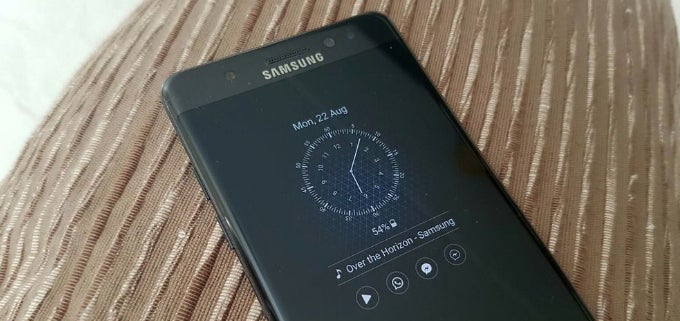 Samsung first toyed with the notion of an Always On display when it dropped the
Samsung Galaxy S7
and and
S7 edge
earlier this year. With the Note 7, the feature has gotten a tad more advanced, with third-party support set to offer a greatly enriched experience. Shortly after the Note 7's announcement, Samsung
offered a teaser
of what users could expect of the new Always On. Today, Samsung has pushed a small update that allows Note 7 owners to showcase song info of a track playing through the native music app.
Placed just below the clock and above the menu of most-used apps, it's a subtle, useful feature for music lovers. Though it's only currently supportive of the Note 7's default music app, third-party support means that services like Spotify can jump on this feature should they feel inclined.
Presumably, the likes of the Galaxy S7 and S7 edge
could
support the new AOD features, though it remains to be seen whether that wishful software update is on the cards. After all, fans of the S7 duo will surely be impressed by the latest Note, and by keeping the new features sacred to the phablet, Sammy could coax more users into forking out for the expensive new model.
If history is anything to go by, the omens are not particularly promising. The Galaxy S7's always-on display
hasn't yet made the jump to older Galaxy phones
, so we're not holding our breath once more. Still, here's hoping that a port to the S7 contingency is in the offing.
As ever, do let us know what you make of the new feature by dropping a comment below.
Recommended Stories