Note 7: the Always-on display gets an upgrade, becomes much more useful
23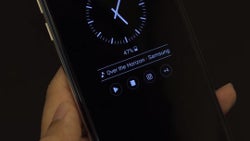 With the
Galaxy S7
and
Galaxy S7 edge
, Samsung introduced the Always-on display — when in standby, the device's AMOLED screen is still entirely black, though, a small part of it is dimly lit and displays time and basic notifications, such as missed calls, messages, and battery. Not a very useful feature, many might argue, as it doesn't support notifications from 3rd party apps, and there isn't much one can do with the display when it's in this state — it works more like a clock than anything else.
Well, with the Note 7, Samsung is taking things a step further. As can be seen in the demonstration video below, the Always-on display will now, finally, support notifications from 3rd party apps. This means that if you have a Facebook message waiting for you, you should see the Messenger icon drawn there, if it's an Instagram follow request, you should see the Insta icon, and so on. The clip also shows that we will be able to crop any of our own personal pictures and place it on the Always-on display — dimmed, but in full color. We can't imagine this not being bad for the device's overall battery life, however.
Most excitingly, the Always-on display is now actionable! Double-tapping on any of the notifications will take you straight to its app (after passing an unlock, if the phone is secured), and tapping on the music playback picture will open a mini music control centre for play/pause, next, and previous song controls. Writing down an Action memo with the S Pen on the standby screen will let you pin it to the Always-on display, staying there as a reminder for whatever it is you need to not forget today.
So, while it may still not be the best feature to keep activated due to battery concerns, it definitely looks like the Always-on display has become a much more useful feature on the Note 7. Let's hope it lands on the S7 and S7 edge via a software update some time soon!