Samsung spent a year perfecting the stereo speakers on the Galaxy S9
43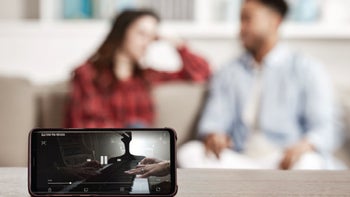 A
leaked retail box
of the
Galaxy S9
stated that it will sport stereo speakers even before the launch, so we were prepared when Samsung pulled that rabbit out of the proverbial hat. What we weren't entirely prepared for, is
how good they sound
, and not only compared to last year's
Galaxy S8
, but also to other flagship phones with dual speaker sets.
That is right, you can finally hear a flagship Galaxy S-line member thunder and roar when loaded with the newest singles! Besides the "tuned by AKG" earphones that the
Galaxy S8
and Note 8 also have, the S9 is listed as sporting "stereo speakers," which are again... tuned by AKG, of course; why would Samsung pay $8 billion for Harman Kardon otherwise?
We spent a year modifying the kinetic structure of the speaker
As to the eventual placement of said stereo speakers - well, given that the S9 sports slightly thinner top and bottom bezels compared to the S8, there is only one way to situate them - at the bottom, and the other doubling as an earpiece. It turns out, however, that it was precisely that top speaker that gave Samsung trouble, and the company spent a year perfecting it to fit in the narrower top bezel.




First off, it had to be smaller than the bottom one to fit among all the camera and sensor paraphernalia at the top. That still made it way bigger than if it was to serve as a regular earpiece, as Samsung enlarged the bottom speaker 50% compared to the one on the S8. As a compromise, the top one in the S9 remained slightly smaller, so the company had to "

modify the kinetic structure of the speaker to make sure there was enough room

." What this means is that it balanced the output of the two speakers to match perfectly, and still deliver 3-4dB of sound without distortion. That's 40% louder than the output of the S8's speaker, but Samsung had to also keep distortion low, and the sound crisp, so it spent a lot of time isolating the top speaker from the interference of the surrounding magnetic elements.




Last but not least, AKG experts tinkered with the all-important base to give it a boost, and made sure distortion is minimal at the top end, too. The result, especially with the faux Dolby Atmos surround sound algorithms, well, the result sounds off for itself when you are watching a movie or listening to music on your

Galaxy S9

or S9+, you Bluetooth bud-less redneck, you.