Samsung Galaxy S9 stereo speakers compared vs Galaxy S8, iPhone X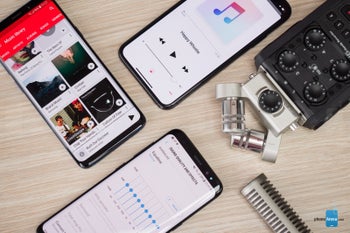 The
Samsung Galaxy S9
finally comes with its own pair of stereo speakers, and they come with a bang — a reassuring "
Tuned by AKG
" sits right there in the specs, making us feel like they will be something truly special.
So, you may be sitting there, thinking — does the
Galaxy S9
sound better than the
Galaxy S8
? How does it sound compared to the
iPhone X
's stereo speakers? Better or worse? Sammy's new flagship is still on pre-order and not many have had the chance to test it out in person yet. But fear not, we've got your back!
So, first let's answer the question — are the AKG-tuned stereo speakers of the Galaxy S9 louder and better-sounding than the
Galaxy S8
?
Here's a quick audio sample, which we recorded in our studio and our thoughts and real-life impressions follow below:
So, we wouldn't say that the Galaxy S9 sounds louder, not really. It does, however, sound fuller, more balanced, with a more pronounced bass and meatier low mids. The Galaxy S8 has an upper-midrange spike, which makes it sound unpleasant and tinny in comparison.
There's also an issue with how many instruments you can get sounding off on the S8's single speaker. As soon as a lead instrument with a slightly higher volume kicks in, everything else "ducks" and gets muffled. This is often an issue on smaller speakers and the S9 does have it to some degree, but it does a better job at making all instruments sound off in a more balanced manner.
In short — yes, the Galaxy S9's speakers are definitely better-sounding than the single tweeter on the Galaxy S8.
On to the meaty part — how do the Galaxy S9's speakers perform vs the
iPhone X
? Well, here's a quick sample and our thoughts to follow:
Both of these phones' speakers have things about them that we like and dislike. To start off, both phones have a pretty solid bass, which can be amplified when you rest the device on a wooden table. Nice. The Galaxy S9 tends to sound a lot meatier, with a hump in the lower mids and a roll-off in the highs. The iPhone X takes a whole different approach — scoop the mids and dial up the highs to get that "clear" tone.
As you can imagine, how much the tone you get from either of those phones will satisfy you largely depends on the genre you intend to listen to. Now, the Galaxy S9 does have a software EQ built into its settings, which is definitely a plus, but it's not extremely useful. Pro tip: if you intend to meddle with it, we suggest only using it to dial down certain frequencies. We found that if you use it to boost even a single band, the whole sound balance gets thrown off.
The iPhone X does suffer from an issue we've observed ever since the
iPhone 7
came out — the earpiece, which works as one of the stereo speakers — will very easily distort. It's not about volume either, certain frequencies just cause it to buzz like it's torn. Needless to say, the rockers out there will not enjoy listening to guitar riffs on this.
But let's be honest — nobody who takes their music seriously will actually blast it on a smartphone... not just yet. These phones sound great if you just want to play something while washing the dishes or while your Bluetooth speaker's battery is charging, but they are certainly not going to wow you with jaw-dropping sounds.
Here are all the tracks for you to listen to: