Samsung fixes Galaxy S7 Active production line flaw that compromised waterproofing on some units
3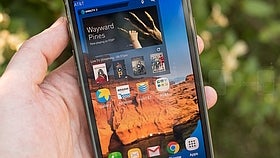 Samsung has announced that it has found and fixed a production line flaw that compromised the waterproofing on some units of the rugged AT&T-exclusive Galaxy S7 Active smartphone model.
A few weeks ago, one study conducted by Consumer Reports found that the Samsung Galaxy S7 Active doesn't quite live up to its IP68 waterproof rating. The publication put a couple of Samsung Galaxy S7 Active units through a water resistance test. Much to everyone's surprise,
both units failed the test
.
The world's largest smartphone maker was quick to react to this report, claiming that it continues to
endorse the handset's waterproofing certification
.
In a recent statement issued to CNET, Samsung claims that it has discovered and fixed an issue with a production line the exclusively makes the Galaxy S7 Active. Here is the statement in full:
"We discovered an isolated issue to a production line that exclusively manufacturers the Galaxy S7 Active. The issue has been resolved. We have received very few customer inquiries and any owner with water damage will receive a replacement under our standard limited warranty."
The IP68 certification should guarantee that the Samsung Galaxy S7 Active is able to survive a 30-minute dive in up to five feet of water. If your S7 Active unit displays water damage, you can claim a replacement under the standard limited warranty.
Aside from being water resistant and dustproof, the Galaxy S7 Active is also MIL-STD-810G certified, meaning that it is resistant to salt, humidity, vibration, solar radiation, and thermal shocks. Those interested in learning more about AT&T's rugged Galaxy S7 version can do so by checking out the following links: