The rugged Samsung Galaxy S7 Active is put to the (drop) test against the Samsung Galaxy S7
38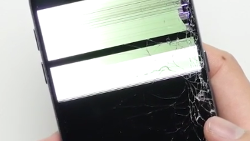 The
Samsung Galaxy S7 Active
is a rugged version of Sammy's current flagship phone. The latter sports a 4000mAh battery that is a full 1000mAh larger in capacity than the juicer inside the regular version of the
Samsung Galaxy S7
. In addition, the shatterproof screen on the Galaxy S7 Active will survive drops of 5-feet or less onto a flat surface. And with an IP68 certification, you can submerge the Galaxy S7 Active into water as deep as 5-feet for as long as 30-minutes, and the unit will emerge unscathed. Most of the remaining specs match what you'll find on the Galaxy S7.
It would seem like a no-brainer to pick the Galaxy S7 Active to outperform the Galaxy S7 in a drop test, but stranger things have happened. The test was conducted by
PhoneBuff
using a professional drop test machine. As usual, each phone was dropped four times from one meter high (3.3 feet). If a phone can still make an emergency call after the four drops (from the side,back, bottom and front) it keeps going until it becomes totally incapacitated.
The drop test started with the back drop. The Galaxy S7 Active received some scuff marks, which was nothing compared to the spider web cracks found on the Galaxy S7. The bottom drop was basically a draw as both models sustained minor scuffing. The bumpers on the Galaxy S7 Active saved the phone from getting dinged on the side test. No such luck for the Galaxy S7, which was dented on the side by the test.
The scariest of the four tests, the front drop was next. What makes this scary is that it is focused on the most vulnerable part of the phone, the glass screen. Would the shatterproof display on the Galaxy S7 Active live up to its name? It sure did. Meanwhile, the Samsung Galaxy S7 screen was cracked. There was no upset here as the Galaxy S7 Active easily won the drop test.
The Galaxy S7 Active "qualified" for the bonus round ,which meant that the device was dropped on its front over and over again. After 50 additional drops, the test was halted since the glass would not break. There were some scratches on the display, but not even one little crack appeared.
If you're looking for a high-end phone that you don't have to worry about when you drop it, or when it gets wet, the Samsung Galaxy S7 Active appears to be able to handle everything thrown at it. Check out this one-sided drop test by clicking on the video below.
source:
PhoneBluff