Samsung buys stake in Pantech, securing innovation access
28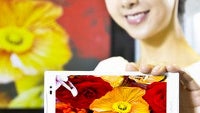 Samsung has apparently acquired a 10% stake in Pantech, its fellow South Korean phone maker, for reasons yet unknown. That makes Sammy one of the largest shareholders in the company, after Qualcomm and the state's Development Bank.
Pantech is actually one of the most innovative makers in recent years, at least on its home turf, as it was the first to have the Vega Racer with a 1.5 GHz dual-core processor, not to mention the 5" Vega N5 phablet. Its
Pantech Vega LTE
handset also was first with a full-fledged gesture recognition function, and
Pantech Vega Racer 2
was the world's first with glass ceramic body.
This year marked the arrival of
Pantech Vega Iron
, which comes with a metal frame that gives it not only a premium feel, but also makes it sturdier and more durable. Moreover, it boasts a bezel that is only 2.4-millimeters thick, which is a record achievement, so Samsung has obviously been taking notes with each of these releases, and jumped the gun on the shares acquisition.