Samsung adds enterprise features to the Galaxy S II and Galaxy Tabs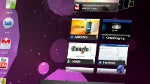 Today's keynote by Samsung actually had a more boring for the average consumer side - the one discussing the new features the company is adding to the
Galaxy S II
and
Galaxy Tabs
, which will enhance these devices' capabilities in the
enterprise sector
. And before you shout "Boooring!", give us a minute to tell you that Samsung has collaborated with companies like Cisco, Citrix, Sybase, SDS and Calgary Scientific in order to create some (presumably) exciting possibilities for strictly business customers of its products.
So, as it seems, among the more interesting new features that will be compatible with the newly-unveiled Samsung Galaxy S II are Cisco AnyConnect Secure Mobility Client, Sybase Afaria Advanced Enterprise Security, Cisco WebEx Meeting Center, Cisco Mobile, as well as better On Device Encryption.
As for the Galaxy Tabs (looks like both the
Galaxy Tab 10.1
and the
original
will be supported), new business stuff includes Cisco Safety and Security Solution, SAP Business Objects Explorer, SAP StreamWork, SAP Mobile EMR by Samsung, and Citrix Receiver.
Exciting stuff, eh? Well, don't count on us trying these out in our hands-ons though, but you can rest assured we're to run a few benchmarks to see how these cores actually score.
source:
Samsung