Samsung U.K. and HTC U.K. battle on Twitter while LG plays peacekeeper
70
We wonder if Henry Kissinger would have been able to work out detente between Samsung U.K. and HTC U.K. Back in March,
both sides attacked the other's flagship Android phone
with Samsung tweeting that "
Four is always better than One
". HTC tweeted a response, "
Plastic is not fantastic
".
Both sides sniped at each other again on Friday and again the feud was made public on Twitter. HTC U.K. sent out a tweet reporting that the
HTC One
had won the award for 'Hottest Phone of 2013' at the Mobile Awards. Samsung U.K. replied by saying that HTC could have that one award because Samsung
walked away with three
. To which HTC tweeted a crack about how all of those fake reviews about its competitors that Samsung had paid college students to write, were finally paying off.
Fellow OEM LG decided to act like the only responsible adult in the room by sending a tweet to both Samsung U.K. and HTC U.K. that read, "
Calm down dears! It's only a phone!
"
If LG can bring peace between HTC and Samsung, perhaps the manufacturer should see what it might be able to accomplish in the Mideast.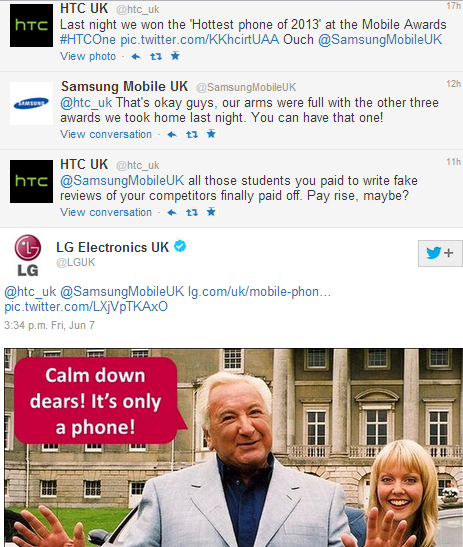 LG plays peacekeeper on Twitter
Thanks Anonymous Tipster!
source:
Twitter
Recommended Stories