Samsung and Best Buy offer massive discounts on the Galaxy Tab S4
1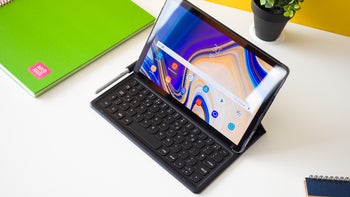 Despite the fact that it's been released last year, the
Galaxy Tab S4
remains a top-tier tablet. The problem with the Tab S4 is that its price hasn't dropped since launch, so everyone is buying Samsung's most recent flagship tablet, the
Galaxy Tab S6
, which typically sells for $650, the same amount that you would pay for a Galaxy Tab S4.
Well, it looks like Samsung is doing something about that, so for a limited time, customers can buy the
Galaxy Tab S4
at a sweet $200 discount. Both Samsung and Best Buy offer deals on the Galaxy Tab S4, so if you're in the market for an Android tablet, you could get Samsung's high-end slate for as low as $450.
Only the Wi-Fi versions are now on sale at Best Buy and Samsung, but there are two variations available to choose from, 64GB and 256GB. Both are getting $200 discounts, so you can get the former for $450, while the latter costs $550.
More importantly, if you decide to buy the 64GB Wi-Fi only Galaxy Tab S4 from Best Buy, you will also save 25% on a memory card of your choice when you purchase the tablet.