Samsung Galaxy Tab 3 10.1 and Galaxy Ace 3 eventual specs leak to curb your enthusiasm
50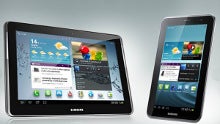 From the Russian source that gave us the tidbits on the
upcoming Galaxy Zoom cameraphone
now come the alleged specs of two less exciting products from Samsung - the Galaxy Tab 3 10.1 and Galaxy Ace 3.
As is becoming pretty apparent, Samsung is planning on several Tab 3 models, based on screen size - after the
Tab 3 8.0
, we now have specs for the
Galaxy Tab 3 10.1
. Coded GT-P5200 for the version with cellular connectivity, and P5210 for the Wi-Fi slate, the internal name for the tablet is said to be Santos, and availability is slated for June, apparently hinting at an appearance at the
June 20th Samsung event in London
.
The 10-incher runs Android 4.2 Jelly Bean and have a 1280 x 800 pixels, dual-core processor clocked at 1.6 GHz, 1 GB RAM, 16/32 GB of internal memory plus microSD slot, a frontal 1.3 MP and rear 3 MP cameras, with battery capacity of 6800 mAh. If these specs indeed pan out, it's clear that Samsung will be letting the device out at rock bottom pricing. Dimensions are claimed to be 243.1 x 176.1 x 7.95 mm, and weight - 510 grams. Not the thinnest and latest 10" slate out there, but still one of the most compact.
The other leaked info is about an eventual
Samsung Galaxy Ace 3
(GT-S7270). It is to have a 4" LCD with 800 x 480 pixels of resolution, dual-core processor at 1 GHz, a gig of RAM plus 4 GB of internal memory and a memory card slot, 5 MP camera and 1500 mAh battery. The Galaxy Ace 3 is supposed to sport a 121.2 x 62.7 x 9.8 mm chassis. Evidently this one won't break the bank for you either.
Recommended Stories