Samsung Galaxy S4 accessories prices and release dates leaked
24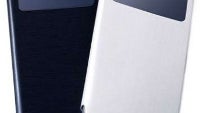 The
Samsung Galaxy S4
got officially unveiled just days ago, but the event was not just about the device itself - it was also about the accessories that come with it.
Samsung announced a ton of new sensors like a thermometer and a barometer built inside the S4, and to make better use of them there is a range of newly introduced accessories and apps. And now we know almost exactly when most of them will arrive.
Good news is some like the new S View Cover, Protective Cover+ and Flip Cover will be available from the first days of April. Most others will launch by the end of next month.
The most intricate ones like the Game Pad and S Band are likely arriving later on. Here are the expected release dates for the Galaxy S4 accessories:
S Band – $129,99 - not known
S View Cover – $69,99 – Week 14 (April 1 - 6)
Wireless Charging Pad / Cover – $49,99 – Week 17 (April 21 - 27)
Flip Cover – $34,99 – Week 14 (April 1 - 6)
Pouch – $59,99 – Week 15 (April 7 - 13)
Protective Cover+ – $19,99 – Week 14 (April 1 - 6)
Headset – $29,99 – Week 15 (April 7 - 13)
Extra Battery Kit – $29,99 – Week 15 (April 7 - 13)
HRM – $79,99 – Week 15 (April 7 - 13)
Body Scale – $129,99 – Week 15 (April 7 - 13)
Game Pad – $99,99 - July
source:
SamMobile