Samsung Galaxy S4 Google Play Edition Review
20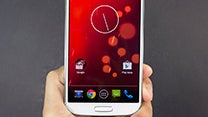 Introduction:
It seems as though Samsung has proven itself to Google, in more ways than one. Like seriously, if you look at what Samsung has done to spread the Android love in the last few years, you'll see that they been able to deliver timeless devices that spread across a wide range of categories. Heck, they've even managed to win over el Goog's heart so much, that we've seen already three devices from Samsung to sport the Nexus moniker – the
Google Nexus S
,
Samsung Galaxy Nexus
, and the
Google Nexus 10
tablet.
At this year's Google I/O event, it was announced that another version of Sammy's fabled
Galaxy S4
would be made sporting a stock Android experience – dubbed as the '
Google Play Edition
.' No doubt, this is going to appeal to those Android enthusiasts who don't take fancy in custom UIs masking the pure Android experience, it's actually a gesture that shows the kind of relationship the two tech giants have with one another. Now if you haven't been swayed by the still fresh Galaxy S4, it would appear as though that this Google Play Edition might earn your trust, especially when the idea of receiving those major Android updates right away is within reach with this.
The package contains:
microUSB cable
Wall Charger
Stereo Headphones
Quick Start Guide
Product Safety and Warranty Guide
Design:
It's the S4 all over again, which shouldn't be a shock to anyone. What more can we say about this one, aside from the obvious that it matches its sibling's looks, design, and construction. It still pays homage to Sammy's smartphone design language, as it sports a glossy white plastic casing that's good at masking smudges and fingerprints. Indeed, it's not as premium feeling as other flagship devices, but the benefits from a plastic construction is that it's uniformly thin (0.31") and lightweight (130 gr). Grasping it might still prove troublesome for those with smaller hands, but it's not entirely something new that we don't see in this day and age. At the end of the day, it looks like and feels like the S4 we all know and love.
As we've mentioned already, this is an
exact facsimile to the original model
from a couple months ago, so we're presented with all
the same ports and buttons
throughout its body.
On its
façade
, we see that slightly raised physical home button that's surrounded by its capacitive menu and back keys – while above the display, there's the earpiece, light & proximity sensors, and front-facing 2-megapixel camera. Rounding things out, we have its dedicated power button, volume control, standard mic, microUSB port, noise-cancelling mic, and 3.5mm headset jack. Giving the original model a sprinkling of coolness, this version's IR blasters aren't active, which means that it can't be used as a universal remote – or utilize those hand waving movements that allow the TouchWiz packing model the ability to use its various Air Gestures features.
In the
rear
, the same beefy 13-megapixel auto-focus camera with LED flash from before protrudes slightly from the surrounding surface – while two notches towards the lower left corner are used for its internal speaker. It's comforting, yet surprising, especially for a device running that pure Android experience, this has a removable rear cover that provides access to its 2600 mAh battery, microSIM slot, and super useful microSD card slot.
Display:
Dazzling us yet again with its iridescent looks and massive size, the handset's 5-inch Super AMOLED HD display with 1080 x 1920 pixel resolution is a standout head turner. Super detailed with its 441 ppi pixel density, it has enough sharpness and clarity to give even the tiniest of text that distinct look from a normal viewing distance. Complementing its detailed looks, its oversaturated color reproduction, wide viewing angles, and strong contrast gives it that cool glow to light up any room.
As much as we dearly love the display for its sheer beauty, it's not entirely the same as before, seeing that it lacks the ability to track our finger as it's hovering slightly away from the display – so yeah, there's no Air View support with the Google Edition.
Recommended Stories