Samsung Galaxy S 4 display, Air View and Air Gesture demoed on video
33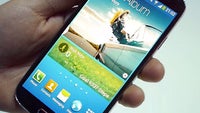 5-inches of 1080p Super AMOLED goodness – that's what graces the front side of the new
Samsung Galaxy S 4
. We're referring, of course, to the smartphone's gorgeous display panel, which matches or even outperforms in certain ways the displays used on other high-end devices available today.
But specs aren't everything. There's a few more cool tricks that the Samsung Galaxy S 4 has up its sleeve, made possible by its exceptionally sensitive display. Basically, the touchscreen can detect when a finger is hovering over it, which allows interaction without the need for the user to actually touch the surface of the panel.
So for example when you're checking your email or calendar appointments on the Samsung Galaxy S 4, you can get a quick preview simply by hovering your finger above a given message or date. And while browsing the web, swiping your hand left or right above the screen will switch between tabs. That's also how you can flip through pictures displayed in the gallery.
Cool stuff, don't you think? To get a better idea as to how great the Samsung Galaxy S 4's display is, just check out the video below! In addition, we have a demo of the aforementioned touchless gestures, so make sure you check those out as well!