Samsung Galaxy On8 goes on sale for just $225 outright
9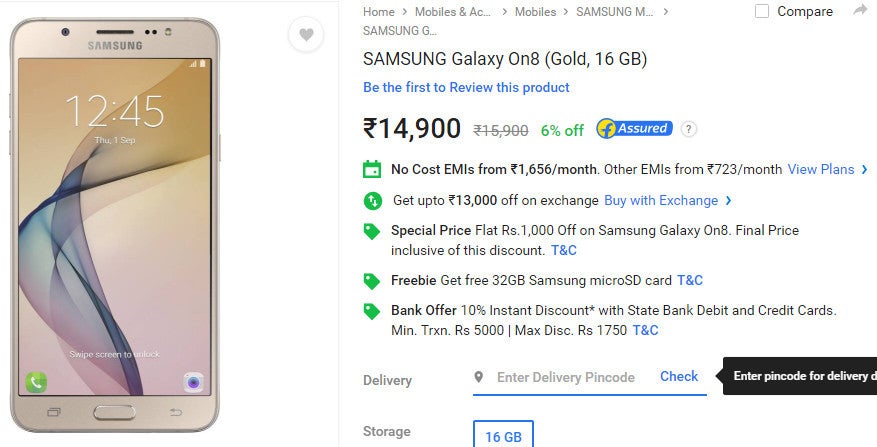 The Galaxy On8 seems to be one of the best deals Samsung fans can get.
A mid-range Android smartphone
with some high-end feature that sells for less than $250 upfront sounds too good to be true, right? The only downside is that Samsung only introduced the smartphone in India, which is probably one of the reasons the Galaxy On8 is priced so low.
Major retailer Flipkart is now selling the smartphone for Rs 14,900, which is about $225, but this a time limited offer. If you can't get it in time, you will have to pay Rs 15,900 ($240), which isn't a bad deal either.
Also, Flipkart mentions that the order quantity is limited to 1 device per customer for 30 days. The smartphone is available in three color options: Gold, Black, and White. However, the black and white versions seem to be out of stock.
The Galaxy On8 ships with Android 6.0 Marshmallow right out of the box, but there's a chance that Samsung will provide an Android 7.0 Nougat update in the future. Although it sells for less than $250, the Galaxy On8 does a pretty good job when it comes to hardware.
The smartphone is powered by a 1.6GHz octa-core Exynos 7580 processor, 3GB of RAM and 16GB of internal memory, which can be further expanded via microSD card. There's also a 13-megapixel photo snapper on the back, as well as a secondary 5-megapixel selfie camera in the front.
Samsung included a large 3,300 mAh battery inside the Galaxy On8, so users should get at least 1-2 days of use.
Another important aspect
is the large 5.5-inch Super AMOLED display that supports full HD (1080p) resolution.
Although the smartphone is only available in India for the time being, the Galaxy On8 has great potential for all markets if priced accordingly. Basically, this means that the smartphone's price may vary by market and carrier.