Samsung Galaxy Note5 vs iPhone 6 Plus vs Galaxy S6 vs the rest: size comparison
6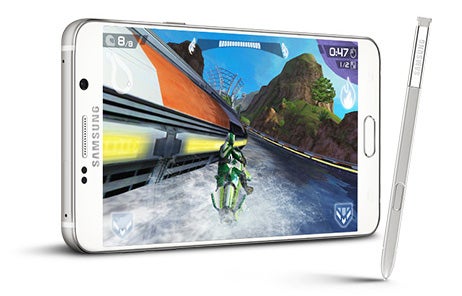 The Samsung Galaxy Note5 is now official, and it basically looks a lot like a supersized Galaxy S6.
Yes, it's a big phone with a 5.7-inch display, but it has gotten thinner side bezels in comparison with last year's Galaxy Note 4, so the phone is narrower, and it's also got a slightly curved back around the edges, something that makes it possible for the phone to fit in the hand more comfortably.
The Note5 has also gotten thinner in comparison to its predecessor, which is a nice touch. Improvements in Super AMOLED displays power efficiency and the new, 14nm process for the Exynos system chip allowed Samsung to use a slightly smaller, 3000mAh battery to slim down the phone.
How does the Galaxy Note5 compare against the other major competitors, though? We give you a visual comparison so you can see the sizes yourself right below.
Samsung Galaxy Note5 vs Galaxy Note 4 vs Apple iPhone 6 Plus vs LG G4: size comparison
Samsung Galaxy Note5 vs Galaxy S6 vs Apple iPhone 6 vs HTC One M9: size comparison
Samsung Galaxy Note5 vs Xiaomi Note Pro vs Meizu MX5 vs Huawei P8: size comparison