Samsung Galaxy Note Edge with Lollipop on board doesn't get rid of the "mute sound" option
3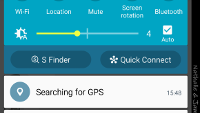 Yesterday one of the more unusual smartphones that have arrived during 2014, the Samsung Galaxy Note Edge,
began receiving Android 5.0.1
Lollipop, just slightly later
than its regular Note 4 cousin
also began to lick the sweet confectionery update. Our UI comparison between the older KitKat and the new Lollipop build is on its way.
Still, it seems that there's a pretty substantial difference between the Lollipop update for the Edge and the rest of the Android 5 builds for Samsung's more popular devices - the Note Edge has not waved goodbye to the "mute" sound-toggle feature, unlike the Galaxy S5 and the Note 4, for example. The mute toggle in the Quick Toggles is still there, right where it's supposed to be - the third option after you tap the sound toggle. The rest of the official Lollipop builds from Samsung unfortunately ditched this quite essential functionality.
As a reminder, Google also decided that an old-school silent mode should not made its way to stock Android 5.0 Lollipop. Thus it got 86'd in favor of a new priority mode, which employs a pretty different philosophy. A strong backlash from the userbase, however, has allegedly made Google reconsider its decision - the old silent mode is reportedly among the bigger entries in the changelog for the upcoming Android 5.1 Lollipop.